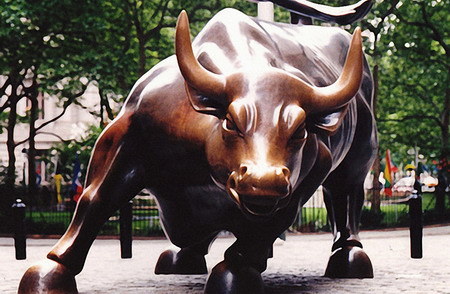 Wall Street's Charging Bull will soon be joined on the world stage by a Chinese version that's set to be unleashed in Shanghai. [File photo] 
The Wall Street bull, perhaps the most treasured iconic image in the world of finance, can soon be seen charging in Shanghai, a city aspiring to become New York II.
The oriental version of the bull will add verve to Shanghai's financial street along the Bund before the end of the Year of the Ox, that is, Feb 14, 2010. The Shanghai version of the Charging Bull will be larger and heavier than the original - all of 6,000 kg against the 3,200-kg Wall Street icon.
Hopefully, the bull will "bring confidence and fortune to the Chinese people in times of economic uncertainty", said Xin Yaqin, director of Huangpu district's office of financial services, which manages the financial street.
"It does not make sense to make another Bowling Green Bull here Shanghai is different from New York, so we'll ask the artist to add Chinese characteristics to the sculpture," she added.
Related readings:


 Shanghai needs rule change to be financial hub


 Shanghai to be the center for insurance innovation


 Advisor: China should set up clearing bank in Shanghai


 Cities 'may gain from financial crisis'

But not everyone in the city is pleased with the news.
"It's an interesting idea, which could raise the spirit of the Chinese people. But I don't think it would help the economy recover, or help us profit from the stock market," a book dealer surnamed Huang said, complaining that he had lost a big part of his savings when the market crashed last year.
For Wallace Reid of Scotland, it does not make sense to "copy" New York now because Wall Street is still shaky.
Tony, who didn't want to give his full name, agreed. The Boston resident said: "I see nothing wrong with the bull itself, but if they copy some of the ways (of Wall Street) there could be problems like becoming a victim of the same mindset. You know what happened in Wall Street," he said.
There are more innovative symbols than the bull, especially in China, which has a rich history of culture and tradition, Tony said. "The dragon, for instance, may be a better choice."
The city's blueprint says the financial street along the bund and the Lujiazui financial and trade zone in Pudong are the key factors that could advance Shanghai's status as an international financial center.