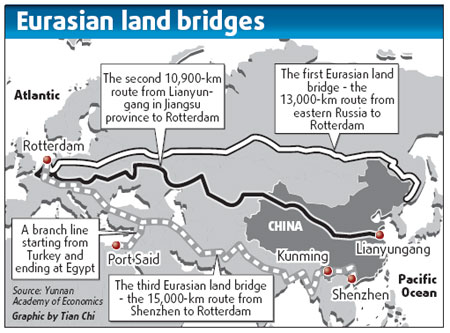 China should promote the construction of a third transcontinental transportation link with Europe, said Qin Guangrong, governor of Yunnan province.
The land corridor, consisting of railways and highways, would boost trade and provide an alternative transport channel to safeguard China's energy and economic safety, he said in an interview with China Daily yesterday.
Under the proposal, the third Eurasian land bridge would start from port cities in the Pearl River Delta, including Shenzhen, travel west to Yunnan province, then through Myanmar, Bangladesh, India, Pakistan, Iran and Turkey, cross Europe and end at Rotterdam in the Netherlands.
The entire route would stretch 15,000 km and run through 17 countries.
A branch line that would also start in Turkey, cross Syria and Palestine, and end in Egypt, which would facilitate transportation from China to Africa.
Related readings:


 Experts propose developing SW corridor of Asia-Europe land-bridge


 High-speed boost to railways, CRC


 China's railways carry 75m holiday passengers


 China to invest 150 billion yuan in railways in Shanxi Province

So far, there are two Eurasian land bridges - the 13,000-km route from eastern Russia to Rotterdam, and a 10,900-km route from Lianyungang in Jiangsu province to Rotterdam.
But the third land corridor would be "the most convenient channel for the Pearl River Delta region to reach other parts of Asia, Europe and Africa," Qin said.
The route would slice up to 6,000-km from the sea journey between the same two ports, he said.
The idea of a third Eurasian continental corridor was first raised by scholars in 2007, but little progress has been made on any development.
Economist Yu Guangyuan said earlier that such a continental corridor faces many difficulties in reality, such as a lack of concerted effort from countries along the line.
Complicated border procedures between countries could be troublesome and time consuming, insiders said.
Experts believe the government should reconsider the proposal in the face of the global economic crisis.
Duan Gang, director of Yunnan Academy of Economics, said in an interview with China Daily that the current global economic meltdown has made people more aware of the advantages of land bridges.
"The sea transport business is seeing a slump in profitability and suffers frequent attacks from pirates. But land transport, shorter in length, is growing in both volume and profit," he said.
The project would not be as costly as some think as existing railways and highways are ready for use. In all, only about 1,000 km of new railways and highways need to be built, he said.
Yunnan provincial government is suggesting the central government coordinate various government departments to help Myanmar build more than 300 km of railways and highways to link the railways in Yunnan with South Asia's highway network, Qin said.
It will help China pave the way for building a channel to the Indian Ocean, and then for the Eurasian land bridge, he said.