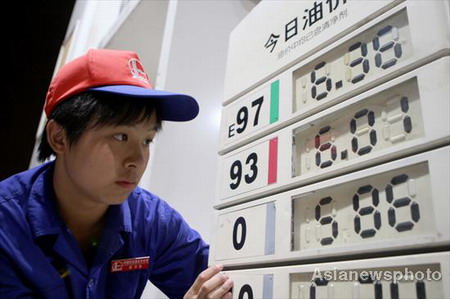 A worker adjusts the gasoline price board at a gas station in Huaibei, Anhui province on June 30, 2009. [Asianewsphoto]
China raised gasoline and diesel prices by 600 yuan ($87.8) per ton, starting 12am Tuesday.
The increase raised the price for gasoline by about 0.45 yuan per liter, or 8.6 percent, and the price of diesel by about 0.51 yuan per liter, or 9.6 percent, said the National Development and Reform Commission (NDRC) in a statement on its Web site.
Related readings:


 Gasoline, diesel prices raised


 China cuts gasoline, diesel prices


 China's oil product consumption up 12% in 2008

It was the third oil price adjustment this year. On May 31, the NDRC raised the pump prices of gasoline and diesel by 400 yuan per ton, or 7 percent and 8 percent, respectively.
The adjustment was in response to "recent international oil price fluctuation" under the country's new fuel pricing mechanism, as international crude prices kept rising, said the statement.
According to the new mechanism, China's domestic prices are to be "indirectly linked" to global crude prices "in a controlled manner."
Under the pricing mechanism, China would consider changing benchmark retail prices of oil products when the international crude price rises or falls by a daily average of 4 percent over 22 working days in a row.
Oil prices settled at $69.16 a barrel on the New York Mercantile Exchange Friday, registering a 4.2 percent rise from the price of $66.31 a barrel when the last adjustment took place on May 31.