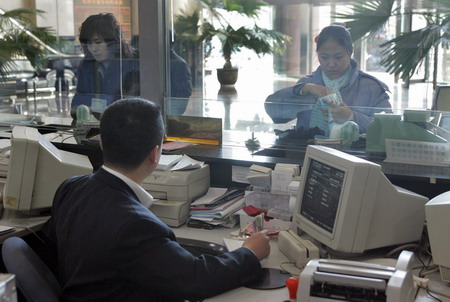 Customers speak to tellers at a Tianjin City Commercial Bank branch in Tianjin. China's banking regulator has urged banks to curb excessive lending and focus more on credit management. [Agencies]
China's top banking regulator has asked banks not to resort to excessive lending to meet targets, but rather focus on strengthening credit management.
"The top priority at the moment is to stop the explosive lending at the end of month and the quarter," China Banking Regulatory Commission (CBRC) said in a recent notice to Chinese lenders, pointing to the phenomena that banks were racing to give out loans before June to meet their half-year credit targets.
There have been rumors that China's new yuan loans in June could possibly exceed that of May, bringing the total amount of new credit in the first half to 6.5 trillion yuan ($951.46 billion).
The banking regulator said bank loans should continue to support industries encouraged by the nation's industrial policies.
Extending loans to industries with high pollution and consumption as well as with excessive capacities are strictly forbidden.
"Banks should carefully monitor the process of credit approval and allocation, and make sure that loans have flowed into the real economy," CBRC said in the document.
Related readings:


 New loans may reach 6.5t yuan in H1


 Economists: Inflation unlikely in '09


 New bank loans top 664b yuan in May


 Bank loan plummets to $86.6b in April

China's soaring bank lending has been considered as a red flag for future pileup of bad loans and assets bubbles. Analysts said it is necessary for the regulator to keep a close eye on banks' lending behavior.
"The buoyant stock market could be a sign that some loans may have flown into capital market for quick returns rather than being directed into the real economy," He Ping, finance professor at School of Economics and Management, Tsinghua University, said. The mainland A-share market has so far rebounded more than 50 percent from last year's trough.
"Pumping loans into the real economy is of great significance, as its multiplier effect could shore up the economy in a much large scale," he said.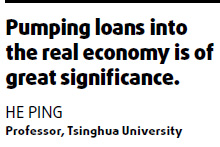 He Ziyun, professor at the University of International Economics and Business, said it is common for banks to hike lending when the end of a month or a quarter looms, as the performance of the staff at local branches are closely linked with how much credit they could give out within the time limit.
In the notice, the CBRC also asked banks to reform loan officers' performance appraisal system and encourage them to focus more on credit quality and risk management.
In the first five months banks have extended 5.84 trillion in new yuan loans, beating the 5 trillion yuan target for the whole year.
Andrew Crockett, president, JP Morgan Chase International and an adviser to the CBRC, said earlier that the rapid lending growth should be regarded as a warning sign, because nearly always when we have financial difficulties at banking institutions, it is preceded by a rapid growth in lending."