Thirty-five high-speed rail lines, measuring 11,000 km, are being rolled out throughout China, a railway ministry official said yesterday.
Related readings:


 High-speed boost to railways, CRC


 Expansion of China rail service to accelerate economic growth: analysts


 High-speed rails to slash travel time

 China makes headway with contruction of new railway to sea

With China's railways among the main beneficiaries of the government's 4-trillion-yuan ($586 billion) stimulus package, around 13,000 km of high-speed railways capable of handling trains traveling at more than 200 kph could be completed and put into service by 2012, said Zheng Jian, chief planner with the Ministry of Railways.
The construction of an additional 5,000-km of high-speed railways will be begun soon, he said.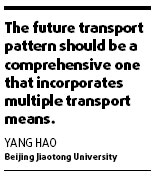 At least five railway routes will be able to accommodate trains traveling at speeds of 350 kph, Zheng said.
The five lines include three north-south routes: Beijing-Shanghai; Beijing-Guangzhou (Hong Kong); and Beijing-Harbin (Dalian).
The two east-west high-speed lines are Xuzhou-Lanzhou and Shanghai-Kunming.
The five lines along with three other lines with a designed speed of between 200 and 350 kph, will become the trunk lines of China's future high-speed passenger rail network.
A ministry spokesman declined to say how many kilometers China's high-speed rail network may end up covering. So far, China has built 185 km of rail track capable of handling the 350-kph trains, including the country's first such rail link, between Beijing and Tianjin, which opened last August.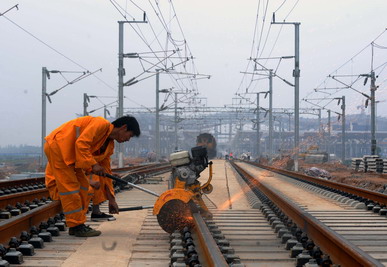 workers put their backs into laying rail track in Changsha,Hunan province.[China Daily]
The Beijing-Shanghai rail line may end up being the fastest - the ministry said in a news release that the trip will take four hours, which means trains will likely exceed 350 kph.
The ministry said in January that 600 billion yuan will be invested in railway infrastructure this year.
The high-speed passenger train network will end up extending to all cities with a population of more than 200,000.
Experts believe high-speed railways will become a major transportation option in tomorrow's China.
Yang Hao, a professor at Beijing Jiaotong University, said China has a population that is six times that of the United States but it only has one-50th of the US' airports.
"The future transport pattern should be a comprehensive one that incorporates multiple transport means," he said.