Government officials may soon need to think twice before plugging their flash-disks loaded with State secrets into unsecured computers.
They will likely come under tighter surveillance to prevent leaks of confidential information, the top legislature was told yesterday during briefings on amendments to the Law on Guarding State Secrets.
The revision is a direct result of the sharp rise of computer-linked intelligence leaks in recent years, lawmakers were told.
A tougher law is needed to cut access to the Internet or other public networks from secure computers, they heard.
The draft revision was submitted to the Standing Committee of the 11th National People's Congress (NPC) for deliberation.
The draft amendments stipulate: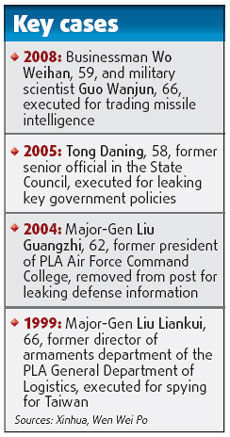 Taking measures to protect networks containing confidential data by isolating them.
Internet and telecommunication providers reporting to the authorities when they detect messages linked to State secrets.
Having a tougher supervision mechanism to prevent sensitive information from being passed on intentionally or unintentionally.
According to research by the NPC's internal and judicial affairs committee last year, more than 70 percent of all cases, though most are unintentional, have been linked to computers, and the number is rising sharply each year.
The list of people involved has expanded from government officials and military officers to accountants for State-owned enterprises, makers of armaments and staff attending closed-door government meetings.
The Criminal Law has only two references on the matter: One is intentional or unintentional disclosure of State secrets, and the other is trading information for profit. Those convicted of intentional leakage are usually executed.
Sources in the government, the military and State-run organizations have told China Daily incidents have surfaced of unintentional but damaging leaks by officials after they plugged flash-disks into wired computers.
"In one instance, it is believed the data was stolen in seconds and the official was removed," one source said.
Military personnel with access to intelligence told China Daily they usually operate on secure computers.
The NPC study also pointed out much of the government information, considered State secrets under the current law, should be made public under a decree issued by the Cabinet three years ago to improve administrative transparency. The draft also calls for reducing the scope of State secrets.
"State secrets should never become an excuse to prevent the public from knowing the truth," said Mao Shoulong, a public policy researcher at Renmin University of China.