Like many early skateboarders in China, Che Lin developed an obsession with the sport after watching "Gleaming the Cube", a 1989 American film noir movie about a 16-year-old skateboarder.
Now 28 years old and an icon in China, Che won Asian skateboarding championship titles in 2005 and 2007, further popularizing the sport.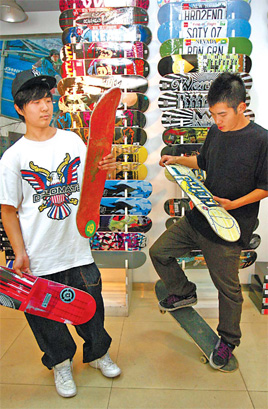 Young skateboarders at the Flystreetwear Shop in Beijing, where prices of skateboards range from about 200 to 400 yuan.[China Daily]
In July, China's first extreme sports park, with facilities for skateboarding, BMX and motocross, is scheduled to open to the public in Beijing's Daxing district. Built with a government investment of $21.96 million, the park includes a skateboarding half-pipe.
The godfather of China's growing skateboarding community, Han Minjie, who owns the Flystreetwear Shop, the nation's top skateboard retail outlet, estimates that there are about 40,000 to 50,000 active skateboarders in China. He believes that there will be steady but slow growth in the coming years.
Skateboarding in China is still in its embryonic stage, Han says, because it lacks commercial sponsorships, facilities and the widespread skateboarding street culture found in the US.
"In the US, skateboarding is deeply rooted in street culture and connected to the lifestyle and values of urban youth, but in China it has only started to evolve in the last few years," Han said.
"And unlike the US or Brazil where you can see thousands of skateboarding playgrounds and parks, there are probably fewer than 10 in China," said Che.
Even China's skateboarding champion, who trains daily in his hometown of Zhengzhou in Henan province, sometimes runs afoul of local police, who allege Che and his fellow skateboarders are disturbing public order.
Yet he believes skateboarding has great potential for further development in China.
"In 2001, skateboarding was only the eighth most popular sport in the US - now it's first. China has many more youth who can do this," he said.
One young fan is 18 year-old Hou Yuxin of Beiijng. She began learning how to skateboard last December and has joined an online skateboarding club, where most members are new to the sport.
Founded last September, the club has more than 300 members around Beijing and is growing, according to Hou.
She once skateboarded wearing a long skirt that covered the wheels of her board. Her seeming ability to float by distracted a passing driver, who then rear-ended the car in front of him. Hou fled, feeling at once apologetic, excited and proud.
"Every person has wonderful times in his or her youth and for me skateboarding is the sport that makes all the wonderful things memorable," Hou said.
The sport has paid off handsomely for the few top skateboarders in China like Che.
"Being a professional skateboarder is the most satisfying job for me because I'm doing what I love best," Che said. "That's also why many of my friends admire my job. It helps me to maintain an everlasting youth."
Related readings:


 Sports industry bucks business downturn


 Chinese sports brands rush to ink pacts with elite stars


 Study: Sports drink consumption can cause tooth erosion


 How to choose your sport in a big city?

Liu Qing, the deputy secretary-general of Chinese Extreme Sports Association, says that since it was introduced from the US to China in the 1990s, the somewhat underground sport is becoming mainstream.
"In the beginning, kids on skateboards often caused concerns about teenage rebellion. Now, skateboarding and other extreme sports like BMX have become a means for young people to challenge themselves," Liu said.
The growing popularity of skateboarding is reflected in a rush by domestic manufacturers to make boards, fashions, gear and other products.
In 1991, Che had difficulty getting his first board, at the time not only a rarity in China but costly - at $293 equal to both of his parents' monthly salaries. Now stores around the country sell skateboarding products.
Founded in 1999 in Shanghai, Han's Fly Skateboard Shop has reached into five other major cities, including Beijing and Chengdu.
"Currently about 30 percent of Fly's consumers are real skateboarders. The rest are street fashion fans." Han said. "But a few years ago, only about 10 percent" were actual skateboarders.
In big cities, fashionable youth are hardcore fans of name brand skateboarding products from Nike SB, Vans and DC or the leading domestic brand Gift.
A limited edition of 180 pairs of the sneaker Nike SB x FLY x Triumvir Dunk Mid "Beijing" was quickly snapped up at Fly stores in Beijing, Shanghai and Chengdu at $123 a pop.
Launched on the Chinese market in 2004, the skateboarders' Nike SB is one of the most popular brands. Nike began to sponsor top Chinese skateboarders like Che Lin and Zeng Guanhao in 2006.
While the top brands confine their high-priced products to larger urban areas, domestic producers have stepped into the market in smaller cities and the towns of China's vast countryside.
Some 21,054 skateboard manufacturers have advertised their products on Alibaba, China's largest online marketer. Most provide much cheaper products aimed at young fans in less-developed areas.
According to Bao Zhiwei, one of the manufacturers, market competition has greatly intensified in recent years, with some producers cutting the price of a skateboard to as low as $5.
These cheap skateboards, Bao said, are of inferior quality.
"Some of the skateboards are made of plastic that people in big cities no longer use because in summer these plastic boards soften in hot weather," Bao said.
Besides traditional skateboards, two new types of boards called freelines and snake boards have also become popular.
Both types allow better maneuverability, making skateboarding accessible to a greater age range. Last year, even a 70-year-old grandfather from Beijing became enthralled with a freeline and now posts his training tips on Youku, a leading Chinese internet video sharing website. Some 120 younger skateboarders have left supportive messages on the site.
The snake board has two separate footpads joined together by a metal rod. It has become the most popular skateboard in China because it is easier to control, especially for kids who might be too young to skate on a traditional board.
"So far snake boards are the best sellers on the market," Bao said.
Third-grader Xu Hang of Jiuzhi township, which is on the border of southwest China's Sichuan and Guizhou provinces, began to learn on a snake board two years ago.
"It's as much fun as traditional games like table tennis and badminton, but it's more exciting," said Xu, who can now jump with his board.
The most fervent hope of Xu and other young fans in townships is for more facilities for skateboarding, rather than doing it on a flat playground.
How does Xu's mother see her son's new sport?
"Frankly I think it's difficult to learn and it's also dangerous. Though I do worry about it sometimes, I just let him try so he can learn to conquer difficulties and face challenges," said Yang Lin, who is an elementary school teacher.
"I think we need to change the mindset of the older generation, who tend to be over-protective and prevent kids from challenging themselves," she added.