China's potential wind power resources alone are sufficient to meet its entire electricity demand, the country's top wind power research institute has said.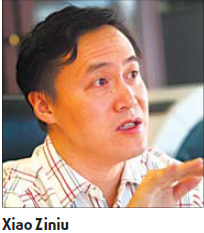 Xiao Ziniu, director of the National Climate Center (NCC), said China's onshore wind power potential has been evaluated at between 700 gW and 1,200 gW, exactly within the range of the country's 790 gW power generating capacity for 2008.
The NCC released the numbers after 10 of its experts carried out an intensive investigation of wind power resources across all the provinces of China.
"This result assures us that the country's entire electricity demand can be met by wind power alone," said Xiao, whose institution functions under the China Meteorological Administration.
The evaluation also revealed that China has 250 gW of potential offshore wind power capacity.
Some regions, Xiao said, had more wind power potential than previously thought.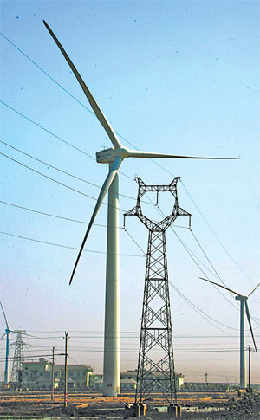 China is the world's second largest wind power market, behind only the US, in terms of newly installed capacity.[Zhang Heping] 
The Xinjiang Uygur autonomous region was estimated to have over 100 gW of wind power generating potential, much more than was estimated earlier.
The new investigation methodology used digital simulation, which resulted in a significant increase in the evaluation potential compared to the 280 gW onshore resources potential evaluated in 2004, Xiao said.
"It greatly strengthened experts' confidence about the country's wind power prospects," he said.
Zhang Guobao, the director of the National Energy Administration, had said earlier that China would soon devise favorable policies to develop mega wind power farms, each with over 10 gW capacity.
The National Development and Reform Commission allocated 280 million yuan to the NCC to conduct the investigation and work out a development plan for wind power resources by 2011, Xiao said.
"We set up 400 wind towers to test and simulate the wind energy data so as to analyze the key cities with huge available wind resources," said Xiao. "The result will come out in July. The next step will be to test the specific wind power resources in terms of different districts for these key cities."
"The fresh assessment will help the country choose wind power bases more precisely," he said.
Related readings:


 Wind power gets set for huge thrust


 China, world's 4th in wind power capacity

 China's wind-power boom to outpace nuclear by 2020


 Wind power capacity likely to rise 64% this year
By 2008, China was the world's second largest wind power market, behind only the US, in terms of newly installed capacity. China added 6 gW of new capacity in 2008, bringing total capacity to 12 gW.
The country's goal to raise its wind power generation capacity to 100 gW by 2020 was still achievable despite the economic downturn, Shi Lishan, deputy director of Renewable Energy Department of the National Energy Administration told China Daily in a previous interview.
Zhang said China would build several wind farms with over 10 gW capacities in the Inner Mongolia and Xinjiang Uygur autonomous regions, and Gansu, Hebei and Jiangsu provinces, over the next decade.
Xiao said that Jilin and Heilongjiang provinces in northeast China have also started building 10 gW wind power bases.
"The construction of wind power bases is changing fast," he said. "But one thing is for sure, China will accelerate the construction of wind power bases in areas that are proved to have huge wind power potential."
The Xinjiang wind power generation base in Hami will produce 20 gW of electricity. Inner Mongolia will have a 20 gW and 30 gW wind power base in western and eastern parts of the region, respectively.
Hebei and Jiangsu will each have wind power facilities capable of generating 10 gW although 70 percent of Jiangsu's wind power capacity will come from offshore operations.