A sweeping plan for financial regulation unveiled late last night (Beijing time) by US President Barack Obama will offer better protection to China's investments in that country, Chinese experts said yesterday.
"Only when the US financial markets start to stabilize can the safety of China's investment be secured, " Zhao Xijun, a professor at Renmin University of China, told China Daily.
Guo Tianyong, a professor at Central University of Finance and Economics, agreed.
Related readings:


 US Commerce Secretary welcomes more Chinese investment


 US to reveal reform plan 'on June 17'


 Democrats outline US financial reform plans


 Chinese investment in funds hit record high
"Financial stability is one of the necessary pre-conditions to restore China's confidence in its US investments," he said, referring to the government's $2 trillion foreign reserve, mostly held in dollar-denominated assets.
Under Obama's proposals, the US Federal Reserve has greater power to monitor risks that threaten the entire financial system - which is similar to the role performed by China's central bank, Zhao said.
"Despite the differences between the US and China in financial regulatory mechanisms, the Fed will function like the People's Bank of China (PBOC) in controlling systemic risk," he said. The PBOC, apart from managing monetary policy, also plays a key role in controlling systemic risk. The country also has three regulatory bodies for banking, securities and insurance industries.
The Obama administration has been discussing for six months how best to tighten bank and market regulation in response to the financial crisis.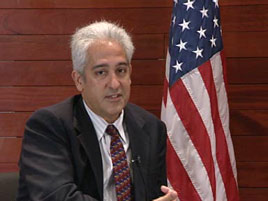 David Loevinger, the senior coordinator for China affairs and the China-US Strategic and Economic Dialogue, receives an interview from chinadaily.com.cn in the US embassy to China in Beijing, June 17,2009. [chinadaily.com.cn] 
Under the proposals:
An independent consumer financial products watchdog agency will be established, and financial firms be required to hold more capital so they can better survive tough times.
More transparency and accountability will be mandated for exotic financial markets that in recent years expanded far beyond the government's ability to keep track of them.
The government will be empowered to seize and unwind large, troubled companies that are not banks, modeling the process on the Federal Deposit Insurance Corp's existing power to unwind failing banks.
Markets for securitized debt and over-the-counter derivatives will be reined in, and there will be more regulation of money market mutual funds, credit rating agencies and hedge funds.
Changes to corporate governance will give shareholders more power to restrain executive compensation.
Months of debate in the US Congress lie ahead.
Committees of both the Senate and the House of Representatives have scheduled more than a dozen hearings on regulatory reform between now and mid-July.
"The US will have a systematic-financial-stability regulator. But we are not going to have a unified regulatory body like in Japan or the United Kingdom. We are going to be more like China, which has different regulators, but their role will be more clarified," David Loevinger, the Treasury's newly-appointed executive secretary told China Daily yesterday.
The US Treasury official stressed that the September G20 meeting will also be "an important part" of the Obama administration's financial reform.
"The G20 is going to be a very important body going forward. Whatever we do in the US to strengthen our financial regulation and supervision...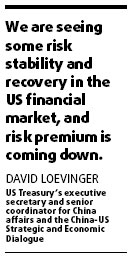 "We know we have to work with China and other critical partners to strengthen financial supervision," said Loevinger, who is also the senior coordinator for China affairs and the China-US Strategic and Economic Dialogue.
"We are seeing some risk stability and recovery in the US financial market, and risk premium is coming down. Financial markets are rising, and banks are beginning to lend to each other, and this are optimistic."
Yi Xianrong, an economist with the China Academy of Social Sciences, said: "The cumulative risk in the US requires financial regulation to be more dynamic, rather than static, which means it has to be sound enough to monitor the entire financial system. Letting the Fed play a bigger role in financial regulation is a move in the right direction."
But Sun Lijian, a professor at Fudan University in Shanghai, said the country should not rush in to copy US reforms.
"The US reform plan aims to fine-tune its financial sector and set financial innovation on a more sustainable and healthy development track," he said.
"In China, where financial innovation is still in its infancy, we must make sure that regulations are not too strict to stifle the vitality of the financial system."