Chinese developers of a controversial software to filter pornography may face legal action from the US makers of a similar Internet filter.
Solid Oak said it had "very solid evidence" to support copyright infringement against developers Jinhui Computer System Engineering Co and Dazheng Human Language Technology Co.
The California-based software maker has sent "cease and desist" letters to Hewlet-Packard and Dell to stop distributing computers containing the alleged copied software and said it was considering seeking an injunction in a US court.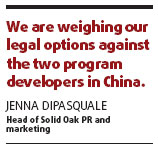 "We are weighing our legal options against the two program developers in China. We should know more in the coming 24-48 hours," said Jenna DiPasquale, the head of Solid Oak PR and marketing.
The development puts a question mark over the future of the Green Dam-Youth Escort software, for which the government paid 41.7million yuan ($6 million) and must be included in all computers sold on the mainland from July 1.
DiPasquale said programming codes within Solid Oak's CyberSitter had been found in the Green Dam software, which the government said is designed to protect youngsters from pornography and violence.
"We have sent HP and Dell, with which we have had business relationships, cease and desist letters," said DiPasquale.
"We objected to the distribution of any software based on proprietary CyberSitter data, techniques, or methods that were illegally obtained or reverse engineered without proper licensing, or any Green Dam product that contains illegally obtained intellectual property.
"We have also asked them to provide an accounting for any units that may have already been shipped."
Zhang Chenmin, general manager of the Zhengzhou-based Jinhui, could not be reached for comment yesterday but he told China Daily earlier that the two filters' databases of blacklisted URL addresses might share similarities.
"After all, they are all well-known international pornographic websites that all porn-filters are meant to block. We didn't steal their programming code," he said on Sunday.
Related readings:


 Green Dam filter software 'not compulsory'


 Green Dam breached, patch-up in progress


 Let people decide on Green Dam


 'Green Dam' does its job jamming Internet content
American experts were yesterday quoted as saying that legal action in the US could not stop the sale of computers within China. Dell and HP could not be reached for comment.
The threat of legal action is the latest in a list of woes for Jinhui. Last week, a University of Michigan study found that the Green Dam software contained, apart from codes similar to CyberSitter, security vulnerabilities, which the company said it has addressed.
Meanwhile, a group of 19 business associations have urged the government to review the Green Dam ruling, Bloomberg reported yesterday.
The software raises "questions of security, privacy, system reliability " according to the letter, a copy of which Bloomberg News said it obtained. The group, includes the American Chamber of Commerce in China and the Business Software Alliance. Wang Lijian, a spokesman for the Ministry of Industry and Information Technology, told Bloomberg that he could not immediately comment on the issue.
A ministry official said yesterday that some foreign PC makers may not be able to include the Green Dam software in their software packages by the deadline set.
"All domestic PC makers are ready to include the software by July 1, but some foreign PC makers, such as Dell, might not be able to meet the deadline as far as I know," the official at the department of software service, who spoke on condition if anonymity, told China Daily.
Wang Xing contributed to the story