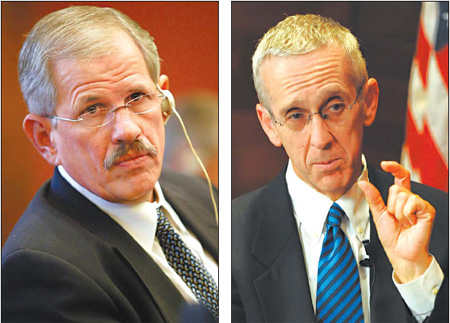 Editor's note:
As 182 nations at the UN ended 12 days of talks on climate change in the run up to a final conference in Copenhagen this December, US and Chinese envoys held three-days of talks in Beijing to explore potential cooperation between the two countries. China Business Weekly journalists
You Nuo, Li Jing, Fu Jing and C.J. Holtzman
interviewed
Daniel Dudek
, chief economist of the New York-Based Environmental Defense Fund, and
Todd Stern
, US climate change chief negotiator.
Q: There are only six months left until the Copenhagen climate change conference. People are hoping that the two biggest emitters in the world have a deal among themselves to see what they can do for the rest of the world to follow. Do you think that is a mission impossible?
Stern: I don't think it's a mission impossible. We came here to pursue just that objective, but not a separate agreement, because there is a multilateral process going on with regards to climate change. So we're not trying to cut a separate deal just between two countries.
On the other hand, we're trying hard to find common ground, to reach understandings that can bring us together. If that happens, it would have an enormous impact on the overall multilateral negotiation that will go on in Copenhagen. I think the single most important thing in Copenhagen is for China and the US to come together and of course this doesn't happen in a day.
Q: China already has a voluntary plan and is making serious efforts. But why is a voluntary effort not enough for some other countries or at Copenhagen? Why is a mandatory cap for China so important even as some other countries are not fulfilling their commitments to reducing greenhouse gas emissions?
Stern: First of all, I think what China has already done - the 20 percent energy efficiency target for the current five-year plan, renewable energy and nuclear power targets - is all very impressive.
Second, we're not talking a national cap for China. We're talking a national cap for industrialized countries. We don't expect China to take a national cap at this stage. What we do look for is for China to continue to put in place even more significant steps like the ones I've mentioned, but further and important steps in the next five-year plan and after that so China's emissions grow slower and start to come down eventually. The reason is because there is only so much greenhouse gas we can all collectively put up in the atmosphere before it gets very dangerous for all of us.
Related readings:


 Bargaining over climate change futile


 Climate change talks need to change


 UN: climate change deepens disaster risk for poor


 China-US co-op on climate change crucial - expert
Q: So will that be interpreted as the United States looking forward to China doing more?
Stern: The US is looking for the US to do more, and for all other countries, including China, to do more, because we have a good start, but that is not enough. The US is doing a great deal now since Barack Obama came into office.
I understand that China is in the process of developing its own plans for the next five or 10 years. We understand China's paramount need to grow and develop for its people and we agree with that.
Q: Dr Dudek, what is the context for discussions on climate cooperation between China and the US? How should any cooperative efforts between them be judged?
Dudek: In my opinion and the view widely held among Western scientists is that warming of more than 2 degrees Celsius from pre-industrial levels could be catastrophic. It is vital to establish a mutual understanding that this limit defines the safe corridor of climate change. Actions and commitments to action must be assessed from the standpoint of consistency with allowable emissions. Global emissions must peak and decline before 2020. This is not a political judgment, but the scientific assessment of the problem we face.
Q: What do you say about the progress made so far in talks between the two countries on climate change? What will be required of the US and China?
Dudek: For the US, it must establish a rigorous national program that caps and reduces greenhouse gases. Fortunately, the US Congress has embarked on development of a serious proposal, HR 2454, which will bring the US back into action at international climate negotiations. This proposal from a very senior and seasoned legislator is a game changer that will not allow the US to use China as an excuse for non-action any longer.
For China, a new sober assessment of this problem needs to occur. The points raised by the national leading group on climate change chaired by Premier Wen on June 5th are a good beginning.
However, achieving these goals will require a comprehensive and systematic review of the real incentives that energy users face. Particular attention should be placed on non-compliance penalties. China needs to understand that its positioning on this will affect not only the US legislative process, but also the prospects for an effective Copenhagen agreement and a safer climate future.
Q: Mr Stern stated that the United States is not going to push China to set mandatory targets on greenhouse gas emissions. What are your comments?
Dudek: I think that it is quite important to understand that this is early in the process of engagement between the US and China. People, I think, are really trying to understand the negotiating territory and the art of what's possible between the two nations. I think from my understanding and experience in the United States, it's important to remember that our executive branch, while very important in terms of determining overall US government positions, is only one element of our policy-making structure.
The other, that I mentioned previously, is the Congress, and the Congress right now is definitely moving with respect to legislation. I want to just remind ourselves that a very prominent senator, in fact a former candidate for president of the United States, Senator John Kerry from Massachusetts, who is also the chair of the Senate Foreign Relations Committee, has said that there's no way we are going to get an agreement in the US Senate unless China reduces its emissions. And we'll have to know that they are. If we don't get at it adequately, the problem is convincing colleagues that China is trying to do its share.