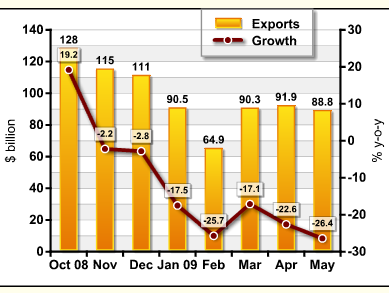 Source: General Administration of Customs [chinadaily.com.cn]
China's exports and imports shrank for the seventh month in a row in May as the economic downturn continued to dampen global trade, the General Administration of Customs (GAC) said on Thursday.
Exports fell 26.4 percent in May from the same period a year ago to $88.758 billion, compared with a decline of 22.6 percent in April. Imports were down 25.2 percent to $75.37 billion.
The trade surplus was $13.39 billion.
Total foreign trade in May was worth $164.13 billion, down 25.9 percent from a year earlier, and down 3.9 percent month on month.
Exports in the five months to May totaled $426.14 billion, down 21.8 percent, and imports were down 28 percent to $337.35 billion.
May exports were down 22.8 percent year on year, and rose 0.2 percent from April after seasonal adjustment, according to the GAC.
Zhang Yansheng, director of the Institute of Foreign Trade of the National Development and Reform Commission, said the further decline of exports should still be attributed to shrinking global demand, growing trade protectionism and a grim real economy.
Global policies that lowered interest rates and injected liquidity into the market had helped sustain a sound financial system, but they did not effectively beef up the real economy, said Zhang.
Companies were reluctant to invest, consumers would not borrow to purchase, and unemployment rates were still climbing, said Zhang, noting that these phenomena would not disappear very soon.
Zhang called for preparations for "a long-term battle" before global trade returned to normal.
In the first half, as Zhang predicted, China's exports would fall more than 20 percent, and exports for the year would drop 5 to 8 percent.
There was little room for export-support policies such as rebate hikes, and the government should launch more policies to encourage structural change, including tax cuts, improving trade financing and promoting credit insurance for exports, Zhang said.
China raised export tax rebates Monday on more than 2,600 items, including processed farm products, machinery, shoes, hats and toys, from June 1. It was the seventh such announcement since last August.
According to the Ministry of Finance, China's taxpayers enjoyed tax reductions of 120 billion yuan ($17.65 billion) in the first quarter, after the reform of value-added tax (VAT) from January 1 to stimulate the slowing economy.
The Ministry of Commerce issued a statement on its website Tuesday highlighting the importance of stabilizing overseas demand, saying shrinking foreign demand was the major reason behind drop of gross domestic product(GDP) last year.
Research showed that declining exports would have a ripple effect on domestic economy, said the statement. If exports dropped 1 percent, consumption would decline 0.68 percent in approximately two years' time.
Strenuous efforts should be taken to guarantee foreign trade, support exports with internationally-practiced policies, actively cope with trade frictions and create a sound international environment for imports and exports.