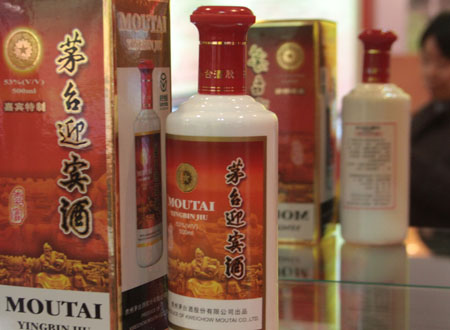 Moutai products on display at a company outlet in Beijing.[CFP]
Chinese liquor producer Kweichow Moutai has forged an agreement with Camus Wine Group, a top French wine merchant, to sell its popular Moutai liquor at the latter's airport duty-free shops across the world.
The two firms said they expect annual sales of Moutai in duty-free shops to touch $15 million within five years.
The deal followed a successful agreement between the two partners from 2004 to 2008, when Camus, the owner and operator of the fourth largest chain of duty-free shops in the world, helped introduce Moutai into some select outlets in Europe, North America and Asia, including three of the global top five outlets in Paris, New York and Seoul, according to Zhao Shuyue, a senior executive of China Kweichow Moutai.
Related readings:


 Moutai brews up new expansion


 Kweichow Moutai plans $212m expansion project


 Moutai cuts prices for Spring Festival
Moutai's supplies to Camus increased from 1,000 boxes (12 bottles) in 2004 to 10,000 in 2008. Sales of the duty-free only Moutai wine reached $7.5 million in 2008.
Only premium products from the Chinese distiller will be sold at the airport duty-free shops, the French company said. These include a special blend of selected batches of products to achieve what the master blenders at the distiller consider to be of the most harmonious aroma and taste.
A bottle of this particular blend sells for $80 for 375 ml, compared with the average price of $50 for the less exotic variety.
Camus is the largest overseas agency of the Guizhou-based distiller. Compared with other distribution channels, Zhao said he prefers duty-free shops because it can help popularize the brand among high-end consumers around the world.
Cyril Camus, current CEO and a direct descendant of the founder of the family-owned French wine maker, said sales at its duty-free shops around the world exceeded $34 billion last year, including $6 billion from wine alone.
Camus, with channels to over 4,000 such shops globally, started promoting Moutai five years ago in airport shops in China and some other duty-free stores in airports that serve as hubs for Chinese outbound tourists. It has since begun to promote Moutai to foreign consumers at other airports.
"We will take measures to educate consumers and also increase investment on advertisements and products presentation," said Camus, adding that trained sales people will be stationed in shops to promote Moutai to potential customers.
The sales staff has been trained on all aspects of Chinese liquor, the background of Moutai and the local culture.
Despite having more than 2,000 years of history and, in recent times, winning several international awards, Moutai has failed to grab much of a global market share. Overseas sales currently account for just 2 to 3 percent of Kweichow Moutai's annual sales.
"The company expects the primary achievements of the last five years to continue," said Xu Jinghuan from Industrial Securities.
Apart from Moutai, Camus, has also reached similar agreements to sell bottled wine from Shaoxing Guyue Longshan Rice Wine and Beijing Dragon Seal Wine.
He acknowledged that Guyue Longshan with alcoholic strength at a low 16 degrees was more welcome in many overseas markets. But Moutai, at 53 degree, goes down well with consumers in Eastern European countries.
Some stock analysts have termed Moutai's overseas expansion policy as wasteful especially so when domestic sales are brisk.
What's more, an increase in overseas sales will invariable cut down supplies to the domestic market as Moutai output is strictly limited by, well, nature.
The quality of the water and the special climatic conditions of Moutai town are the key to the unique taste of the liquor, Chinese wine experts believe.
The premium wine is already in short supply most of the time in the domestic market and overseas expansion will further squeeze local supplies.
"International expansion is our long-term strategy. Moutai is an indigenous Chinese brand with a long history and we have the responsibility to promote it to the world," said Zhao.
The latest annual report of Shanghai-listed arm of Kweichow Moutai Distillery Co Ltd showed that sales revenue amounted to 8.24 billion yuan in 2008, of which 290 million yuan, or 3 percent came from overseas sales.
Moutai's archrival in the wine business, Wuliangye, has also forayed into overseas markets, mainly through foreign agencies. Sold mainly in supermarkets, Wuliangye's foreign ventures have not been much of a success. Overseas sales have never exceeded 3 percent of its total sales.
"We must try harder to diversify our markets," said Zhao, adding, "there is no turning back."