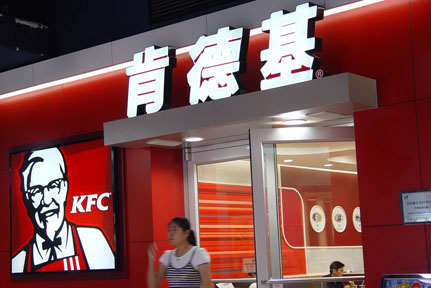 A KFC outlet in Haikou, Hainan province.[CFP] 
The history of shaobing (sesame seed cake), a traditional Chinese snack, could be traced back to the Han Dynasty (206 BC-AD 220). It is a round toasted cake with sesame dotted on the surface.
During the past few years, it was rare to see vendors peddling shaobing along the streets in cities, but the snack has now made a comeback of sorts.
Global fast food chain KFC has decided to add the Chinese snack to the set menu of its restaurants in China.
Related readings:


 The statue of KFC founder rescued from river after 24 years


 Colonel's secret recipe in new, safer vault at KFC


 Screws in drink scare KFC patrons

 KFC launches discount program
From next Monday, all KFC stores will start serving shaobing, but only during breakfast period. Other details, like pricing, shape, taste, and what KFC is going to call it, are being kept under wraps till June 15.
When KFC brought up an online topic - Crazy Shaobing, Goldbach's Conjecture - on major Chinese websites like sohu.com this month, there have been hot discussions, ranging from the origin and types of shaobing to what a KFC shaobing would look like.
"It (online discussion) is a sort of warm-up, but unexpectedly, the customers are so interested in the new launch," said Cheng Ping, a public relations executive from KFC Beijing.
Online citizens aver that KFC has been a trendsetter in selling such traditional Chinese food, but analysts said the localization measure is more of a way to counter the financial crisis rather than attracting eyeballs.
The financial report of Yum! Brands, parent company of KFC, showed its China business in the first quarter grew by 2 percent.