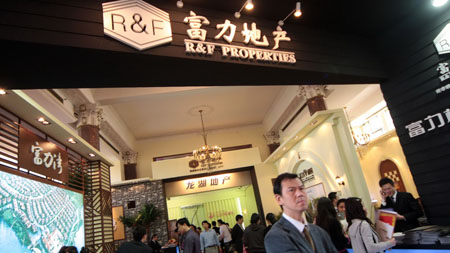 Visitors at the R&F Properties stall at a housing show in Shanghai. [CFP]
With property prices in major Chinese cities beginning to perk up, the land transaction market touched a new high in May, thanks to realtor's improved cash flow, loosening credit environment and lesser worries of inflation.
Last month, land sales in Beijing exceeded the total amount sold from January to April.
According to Beijing land reserve center, 28 parcels of land, with a floor space of 1.68 million sq m, was sold in May, among which 10 pieces, or 1.01 million sq m, are for residential purposes. That represents a 91 percent growth over the previous month.
Related readings:


 Property prices decline in March


 Law adds transparency to land transaction


 Nation to require disclosure of land transaction prices


 Economic figures: Land transaction price indices
In mid-May, Hong Kong-based Hang Lung Properties Ltd spent 4.5 billion yuan and 415 million yuan to purchase two plots of land from the municipal government of Dalian in northeast China and Wuxi in east China.
"The big round of property sales in March and April largely eased property developers' cash flow pressure, and the loosening credit environment also encouraged them to increase their land bank," said Grant Ji, director, Savills (Beijing).
A real estate insider said the land price in the first-tier cities, such as Beijing and Shanghai, is not so resilient. Once the market recovers fully, it would be pretty hard to secure good land in these cities. Meanwhile, there are also worries about inflation.
Along with the fast growing land transactions, the prices have also been soaring.
Statistics show that the deal price is 59.76 percent higher than the floor price on average. But for quality land parcels in Beijing, the price premium is usually above 100 percent.
The Guangqulu No 10 land parcel, located at the capital's CBD area, was sold to R&F Properties at a price of 1.02 billion yuan after several rounds of bidding, with the price premium as high as 242 percent, making it a new "land king".
Meng Qi, senior analyst, Century 21st Real Estate, said developing land in city's urban areas will have less risks, especially at a time when the economic situation is not pretty clear.
But land price in urban areas is not cheap. On May 31, a land parcel for commercial use in Beijing's Changping district was sold after 88 rounds of bidding, with the price of the above ground floor area hitting 4,569 yuan per sq m, higher than that of 2007 when the property price was skyrocketing.
Pan Shiyi, chairman of China SOHO, said the huge increase in land transactions and price indicates the developers' change in confidence and strategy. He believes that this is the best time for developers to acquire land and expand.