The government has completed a draft of mandatory environmental measures for the increasing number of Chinese companies involved in overseas projects, officials have said.
The green guidelines, drafted by the Ministry of Environmental Protection (MEP) and the Ministry of Commerce (MOFCOM), are awaiting approval from the relevant authorities, Ge Chazong, a researcher with the Chinese Academy for Environmental Planning (CAEP), told China Daily yesterday.
The regulations "may become effective in a couple of months" and all Chinese companies with businesses abroad will have to comply with them, Ge said.
Under the latest move, China's outbound investors will be asked to review any environmental impact their projects might have before they are started.
The businesses will also have to include environmental protection measures such as sewage and waste treatment facilities for all existing and planned projects.
Chinese companies will be required to abide by international environmental treaties China has signed as well as the green regulations in their host countries.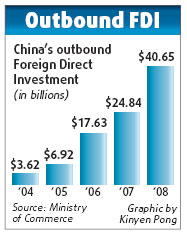 They will also have to provide compensation for any damage they cause to the ecology from their projects, said Zhi Yingbiao, a program officer from the Global Environmental Institution (GEI), a non-governmental organization and co-designer of the guidelines with the CAEP.
"In cases where China's environmental standards are higher than the host countries', Chinese investors will follow our standards," Zhi said.
"This way, China can also help with environmental management in less developed countries."
The country has not received any formal complaint from foreign governments over environmental damage caused by direct investment originating from China, official sources said.
Still, environmentalists maintain that precautions against any such damage is necessary because the country's outbound investment has steadily increased since 2001, when the central government began to encourage companies to venture out in line with a development strategy.
Data from MOFCOM showed that the country's overseas direct investment to non-financial sectors reached $40.7 billion last year, an increase of 63.6 percent from 2007. The figure was $2.5 billion in 2002.
MOFCOM also issued a guideline for Chinese investment in 20 countries in April this year which "touched upon" environmental protection, said Yuan Qingdan, an MEP official.
The United States requires its companies to follow the green standards of their host countries in their investments, said Zhang Jianyu of the US-based Environmental Defense Fund.
Many multinational companies also adhere to a stringent and universal set of environmental protection standards wherever they set up new operations, said Ma Jian, national program officer of UN Industrial Development Organization.
Related readings:


 Green investment will keep growing


 Growth is good but it must be green


 Polluters told to clean up their act


 Protecting our planet for posterity

"Some are even trying to turn their entire supply chains green," he said.
"So it is really good news that Chinese enterprises will soon learn to be more careful about the environment, especially when China's outbound investment is on the rise."
China's investment is reportedly increasing in mining, crude oil production, manufacturing, and infrastructure development in Southeast Asian, African and Latin American countries, where the ecological conditions are already fragile.
Although Chinese projects have contributed to the acceleration in local economic growth, investors should not ignore their environmental responsibilities, GEI's Zhi said.
While large-scaled, State-owned enterprises generally observe environmental protection rules rigorously, small and medium-sized enterprises are more likely to create problems in the area, he said.
There may have been cases in which small processing companies are relocating their polluting operations abroad simply because of a more relaxed environmental regime, he said.
The CAEP and GEI also said the country's latest draft guidelines require banks to take into account environmental and social issues when financing development projects overseas.
In that regard, the Export-Import Bank of China has already formulated an internal "green credit" policy.
Similarly, the Fujian province-based Industrial Bank last year reportedly became one of the first Chinese banks to adopt the Equator Principles, a set of environmental and social benchmarks to ensure sustainable development promoted by the World Bank.