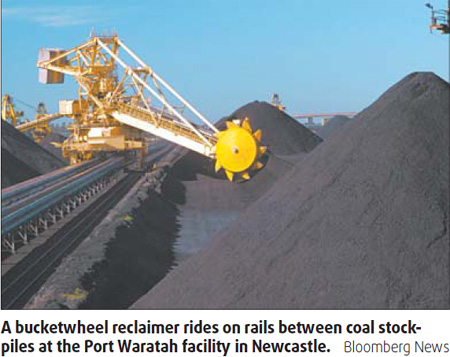 Waratah Coal Inc, the Australian company proposing a $5.15 billion venture in Queensland, said it signed an agreement that will see China Metallurgical Group Corp organize funding for as much as 70 percent of the project.
An estimated $3.1 billion will be borrowed from Chinese banks, the Brisbane-based company said yesterday in a statement. China Metallurgical, a State-owned construction and resources exploration company, will also take a 10 percent stake in the project, called China First, for about $515 million.
The project, described by Waratah Coal as the nation's largest thermal coal mine, will generate as much as A$4 billion of sales a year and A$70 billion during its lifespan, and regulators would be "mad" to block the equity sale, according to Chairman Clive Palmer. Australia in February established a Senate inquiry into foreign ownership.
"The project has been named China First, which probably reads well in Beijing," Andrew Harrington, a mining analyst at Patersons Securities Ltd, said by phone from Sydney. "At this moment, the great savior is Chinese demand. That is the destination for a lot of our natural resources."
Waratah was acquired by Mineralogy earlier this year and its securities de-listed from the Toronto and Australian stock exchanges in April.
"There are no nuts and bolts about the project in the statement," Harrington said. "The company is privately listed, so there probably won't be any."
China Metallurgical will be the project's engineering, procurement and civil contractor. It will buy 30 million metric tons of coal a year, which is 75 percent of its projected annual capacity, according to yesterday's statement to the Australian stock exchange.
"This project is creating 6,000 direct jobs from construction, 1,500 from operations, 45,000 indirect jobs and about A$3 billion to A$4 billion in exports," Palmer said in a phone interview from Brisbane. "We're locking in long-term contracts over 30 years. Any government that didn't approve that would be mad, especially when you're talking about 10 percent, which is nothing really. We may as well kiss Australia goodbye if we have any problem with that."
Related readings:


 China Metallurgical launches tech institute


 Eximbank grants China Metallurgical $2b loan


 Fortescue Metals confirms negotiations with China Metallurgical
The company will fund the remaining 30 percent of the projected costs by itself, Palmer said. It has no debt and has 10 million tons of coal ready to sell.
On May 22, the company said it had expanded proposed capacity at the Galilee Basin mine by 60 percent, giving it increased targeted annual capacity to 40 million tons.
The venture will comprise the mine, a 490-km rail line and export terminal, with shipments due to start in the second half of 2013, making it Australia's largest coal project, Waratah said.
Overseas deals booked by Chinese utilities have led to expectations for a possible tripling in thermal coal imports to about 30 million tons in 2009, Barclays Capital said in a report published May 19.