The Chinese currency, the renminbi, is beginning to play a bigger role globally and that will push its value up in the long run, experts said.
Related readings:


 China to continue currency reform


 Yuan may be reserve currency by 2020 - official


 China moves closer to offshore yuan market


 Yuan edges into place as international trade currency

"China's yuan has appreciated by 20 percent between July 2005 and February 2009. The currency even appreciated slightly against the dollar when most other emerging markets and other currencies fell sharply against the greenback during the financial crisis," said Zhai Peng, economist, Guotai Jun'an Securities.
"Unlike the Asian financial crisis in 1997 when the Chinese government intervened to hold the renminbi's value against depreciation, it has become much more market oriented ever since China launched the reform of its foreign exchange mechanism in July 2005," Zhai noted.
"The fact that Shanghai is to be built into a global financial center by 2020 would greatly drive the yuan to play a bigger international role. This will consequently enable the government to promote the reform of the foreign exchange mechanism and thus result in a steady appreciation of the currency," Li Jianfeng, economist, Shanghai Securities, said.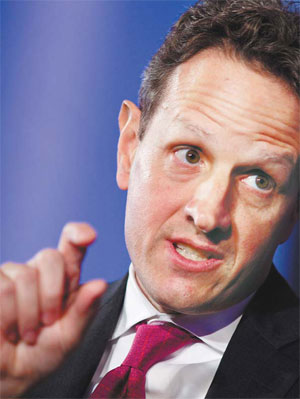 US Treasury Secretary Timothy Geithner said on Wednesday that China did not manipulate the renminbi for export advantage and has taken steps to enhance exchange rate flexibility.[Bloomberg News]
These experts' comments came in response to US Treasury Secretary Timothy Geithner's remarks to the US Senate Banking Committee on Wednesday that China did not manipulate the exchange rate for export advantage and has taken steps to enhance exchange rate flexibility.
This is the second time that Geithner has denied that China was manipulating its exchange rate, following the US Treasury's release of a report in April that denied a "manipulation" claim.
"The Chinese government has never engaged in so-called manipulation of currency exchange rates to obtain international trade benefits," Foreign Ministry Spokesman Ma Zhaoxu told a regular news conference last week in responding to some US lawmakers who claimed that China allegedly depressed the value of its currency to boost exports.
Du Peng, the head of the current account department at the State Administration of Foreign Exchange (SAFE), said on Wednesday that China will give the nation's banks more price-setting capacity in the exchange of foreign currencies with customers as part of government efforts to create a more market-oriented yuan.
"The foreign exchange regulator will relax limits on exchange rates commercial banks offer customers to meet demand for two-way fluctuations of the yuan," the SAFE official said, adding that China will also push forward the opening of the capital account and improve the management of current account.
"After several years of reform, China's foreign exchange market has developed quickly and has made great strides," Du said.
Zhang Guangping, deputy head of the Shanghai branch of the China Banking Regulatory Commission, said on the same day that a series of conditions would have to be met for the yuan globalization trend to gather momentum.
"China would have to gradually make the yuan convertible on the capital account; it needs a more liquid foreign exchange market; its bond markets and banking system needs to be more developed; and there has to be proper monitoring of cross-border capital flows," Zhang said.