China will send another purchasing mission to Europe, following in the footsteps of a delegation that visited the EU a few months ago and signed $15 billion in deals, Premier Wen Jiabao said in Prague Wednesday.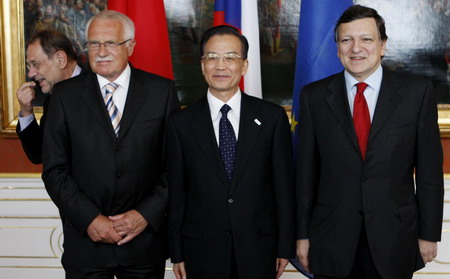 Chinese Premier Wen Jiabao (C), Czech Republic's President Vaclav Klaus (L) and European Commission President Jose Manuel Barroso pose for a picture at the EU-China Summit in Prague Castle May 20, 2009. [Agencies]
Related readings:


 China to send new buying mission to EU


 Premier Wen in Prague for China-EU summit


 China-EU summit kicks off in Prague


 China, EU 'must use ties to beat crisis'


 China and EU 'must use relations to beat financial crisis'
Wen made the remarks at a press conference after a summit between China and the EU in the Czech Republic. The summit had earlier been postponed following French President Nicolas Sarkozy's meeting with the Dalai Lama in Poland last November while France held the rotating presidency of the 27-nation block.
In February, a Chinese business delegation skirted France and signed deals with other European countries. Wen's European trip earlier that month also excluded France.
"The delegation yielded positive results. I announce that China will send another purchasing delegation to Europe soon to increase imports from Europe," Wen said.
Former French prime minister Jean-Pierre Raffarin said in April China might send the delegation to France, after the two sides issued a joint statement on April 1 in which France promised not to support any form of "Tibet independence".
"China is ready to work with the EU to further promote mutual investments, enhance cooperation in small- and medium-sized enterprises, trade facilitation, science and technology, transportation and post, in an attempt to fight all forms of trade and investment protectionism," Wen said.
He expressed the hope that the EU will loosen control over export restrictions on hi-tech products and nurture new growth potential in economic and trade cooperation to further promote China-EU trade.
Wen also asked the EU to recognize China's market economy status and lift its arms embargo. The global financial crisis was a focal point of the summit. Wen said: "We have consistent interests in combating the crisis and will join hands to help with world economic recovery."
China and the EU signed agreements on technology, small-and-medium sized enterprises and the establishment of a clean energy center in China.
He said the two sides must have "mutual respect" and "should not interfere in each other's internal affairs".
The Dalai Lama had urged the EU to raise the Tibet issue but there was no report of leaders touching the subject Wednesday after China urged countries not to interfere.
"It's a signal that China would like to better cooperate with the EU but will not retreat even a single step on the Dalai Lama," said Radio France Internationale earlier this week.
Analysts said the resumed summit has both symbolic and real impacts.
"On one hand, the summit signals our relations have shaken off the shadows cast by Sarkozy's meeting with the Dalai Lama. On the other hand, it shows the resolution from both sides to work together on issues from the economic crisis to climate change," said Feng Zhongping, director of the Institute of European Studies at the China Institutes of Contemporary International Relations.