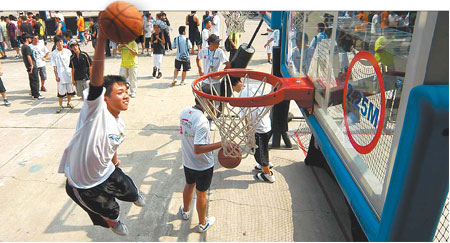 A boy in Nanjing plays at a basketball-themed carnival organized by NBA China last summer. [China Daily]
Basketball in China is proving to be big business as its popularity continues to grow at a phenomenal rate among both players and fans.
The man credited with raising the sport's profile to even dizzier heights is 7ft 6ins Yao Ming, the 28-year-old Chinese-born star of the Houston Rockets, who is the tallest player in the United States' National Basketball Association.
Yao, who began his career with the Shanghai Sharks, has been the richest celebrity in China for six consecutive years, earning $52 million last year alone, mainly through endorsements.
Related readings:


 Sports industry bucks business downturn


 Li Ning '08 revenue surges 53.8%, helped by Olympics

 Sports facility industry races ahead despite financial turmoil

 Sports wearing in China

His first NBA game pitched him against one of basketball's most iconic figures, Shaquille O'Neal. The 2002 match, broadcast live, attracted more than 200 million viewers in China.
Another home-grown talent is Yi Jianlian of the New Jersey Nets. His first home match was with the Milwaukee Bucks in 2007 and it attracted 100 million Chinese supporters.
Since 1987, when NBA games were first aired on China Central Television (CCTV) an estimated 300 million Chinese people have becomes fans of the sport, according to the Chinese Basketball Association.
The games were given free of charge for the Chinese market until 1998 in a far-sighted move to build up interest. The NBA even covered the costs of sending a CCTV broadcast team to the US to report on its all-star games.
Now 89 percent of Chinese people aged 15 to 54 are aware of the NBA, according to findings in a 2008 survey conducted by leading global market researcher TNS.
China is the NBA's largest international market and has grown at an annual pace of 30 to 40 percent in recent years.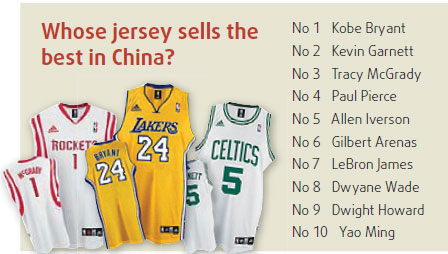 Jerseys featuring Yao Ming's name are the 10th most favored by Chinese basketball fans in retail stores opened by the NBA in China. He trails behind such superstars as Kobe Bryant and LeBron James.
More than 1,000 basketball fans queued for goods on July 15 last year for the opening of a Beijing NBA store, where sales were 70 percent above expectations in the first two weeks.
The association predicts retail sales in China to rise 60 percent this year and another 70 percent in 2010.
"Today, NBA programming airs on 51 stations and reached more than 1 billion viewers last season and we are on pace to break that record again this season," said David Yang, vice-president of business development and marketing partnerships for NBA China.
"NBA merchandise is sold in 30,000 retail locations in China, where the league has opened five NBA stores since June and plans to open 20 by the end of 2009."
Office workers unable to watch games on television have made websites featuring live coverage, such as zhibo8.com, very popular.
"An important game such as the Cavs versus Lakers would attract 300,000 to 500,000 online viewers," said a spokesman for zhibo8.com. "And, if there's a Rockets game, online viewers usually exceed 1 million.
The website shows one fan called Luo Xiaoxiao has watched 215 hours of basketball live online.
Chinese basketball fans have also made the NBA.com/china the country's largest basketball website. Last season it attracted 22 million monthly unique visitors, up 15 percent from the previous season.
Last year, the 10th most popular search on Google in China was the NBA.
It's the stories of rags-to-riches that attract many young Chinese basketball players. Yao has signed two contracts with the Houston Rockets worth $94 million since 2002. His sponsorship deals are now worth $150 million.
"Youngsters inspired by the success of stars seek professional training," said Yang Kairui, director of the Beijing-based Weikang basketball school.
Three years ago there were 30 students at Yang's school who undertook specialized training with their sights set on a professional career. Now that number has grown to more than 60 and is likely to exceed 100 by the end of the year.
"Yao Ming and star hurdler Liu Xiang boosted Chinese pride," said Yang. "The popularity of Yao's NBA games has convinced parents that developing sporting skills is worth paying for and has attracted kids who want to have more fun."
The website askedu.com, which provides educational training information, lists 133 similar schools around China.
Now even reality TV is muscling in on the act. The NBA has been on a quest to discover and develop top athletic talent throughout the Chinese mainland. The search is chronicled in the NBA's first-ever reality show in China called "Mengniu NBA Basketball Disciple".
Shandong TV will air 50-minute episodes of basketball competition in Mandarin every Friday from May 22 to August 21 at 9:30pm local time.
The actual basketball competition takes place over a five-month period. Aspiring players participate in four rounds of basketball skills challenges in order to win an opportunity to try out for the NBA's official minor league in the US.
Players above the age of 17 that do not have professional contracts were invited to public try-outs in each of the 64 cities the NBA visited. The first round of activities included dribbling, shooting, lay-ups and defensive drills. The exercises became more vigorous in the later rounds with drills that included passing and rebounding.
NBA scouts and stars, such as two-time Most Valuable Player and Phoenix Suns guard Steve Nash, administered the competitions; evaluated players, awarded points based on performance, and advanced top performers to the next round. The final round is an all-star game. The finalists from southern China will compete with the finalists from northern China. The final show is a 90-minute live ceremony that will air on August 28. The player who has accumulated the most points throughout the entire competition will be crowned Most Valuable Player and sent on an all-expenses-paid trip to the United States to try out with a team from the NBA Development League.
Li Weidong, assistant professor of sport and exercise sciences at Ohio State University, believes taking top talent out of China can help contribute to the development of Chinese basketball. The players, he said, could bring back new concepts to China, such as business models of the sports industry.
"In a short term run, taking away all the top talents of Chinese players will have a negative impact on the development of Chinese basketball," said Li. "However, looking at it from a long term run, China will benefit from this in a tremendous way as we have seen in the economic development over the past three decades."
"The NBA is definitely making progress in building its brand and increasing the popularity of the sport," said Paul Pederson, director of the sport management doctoral program at Indiana University. He believes the league has not only tapped into the growing popularity of the sport, but has also helped facilitate it for more than 20 years through strategic relationships, partnerships and marketing endeavors.