The insurance industry is expected to play a key role in the transformation of Shanghai as a global financial and shipping center, a top official said at the Lujiazui Forum 2009 in Shanghai on Friday.
Related readings:


 Shanghai needs rule change to be financial hub


 NYSE looks at Shanghai float


 Shanghai float unlikely for foreign firms


 Software for a financial center here

"Shanghai has the right infrastructure, like an experienced pool of insurance professionals, highly globalized insurance institutions, and a well-regulated insurance market to set up an insurance innovation and technology R&D center," said Wu Dingfu, chairman of the China Insurance Regulatory Commission (CIRC), at the two-day forum.
According to Wu, CIRC will launch some pilot programs in Shanghai in the fields of human resources, technology R&D, and capital utilization to help the city augment its financial prowess. "The pilot programs will be incorporated in the memorandum that we are going to sign with the Shanghai government later," said Wu.
At present there are 37 registered insurance firms in Shanghai, accounting for 30.8 percent of the total. In addition, out of the nine insurance asset management companies, five are located in= Shanghai. The chairman of the nation's insurance watchdog views these institutions as a solid foundation for Shanghai's development in the insurance industry.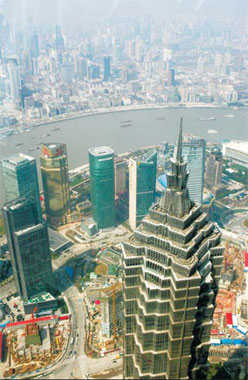 The Lujiazui financial district in Shanghai. [CFP]
"A modern and developed insurance industry has several practical functions for Shanghai. For instance, by the end of 2008, people aged above 60 will account for 21.6 percent of all the residents in Shanghai, mounting a challenge for the existing insurance network. With the help of an abundant pool or insurance premiums, we can partly solve the problem," said Wu.
Apart from the protection for an aging population, insurance will benefit at least in the following areas: building a shelter against unexpected risks, and offering capital for major infrastructure projects like the 2010 World Expo in Shanghai.
In 2008, the insurance premium in Shanghai reached 60 billion yuan ($8.79 billion), accounting for 6.1 percent of China's total premium. In the past six years, the annual growth of insurance premium in Shanghai averaged 6.6 percent, knitting a safe network of social security. For example, in 2008 alone, Shanghai disbursed 18.4 billion yuan in insurance coverage, statistics show.
"As we all know, the more advanced a society is, the more important a city's insurance network will be," noted Wu.
He said Shanghai boasts of a long history with the insurance industry. In 1865, Shanghai opened China's first national insurance company, and since the adoption of the opening-up policy in the late 1970s, it has made significant strides in insurance development.
However, there is still potential for the city to develop the insurance market further, said Wu.
"In 2008, Shanghai collected 60 billion yuan of insurance premium, taking up only 4.4 percent of the city's GDP. But the world's average percentage is 8, and in some cities like New York, it has crossed 10 percent. Besides, there are no Shanghai insurance enterprises listed in the Fortune 500, while in New York, London and Tokyo there are five, four and six firms respectively."
Concerning Shanghai's goal of building "two centers", Wu said that a sound market for shipping insurance will also be helpful as the central government palns to cut taxes for shipping insurance services.
This is the second Lujiazui Forum in Shanghai. A total of 103 leading financial executives, economists and regulators are attending the Lujiazui Forum and offering their insights based on this year's theme - Finance and Economic Growth in the Globalized Age.