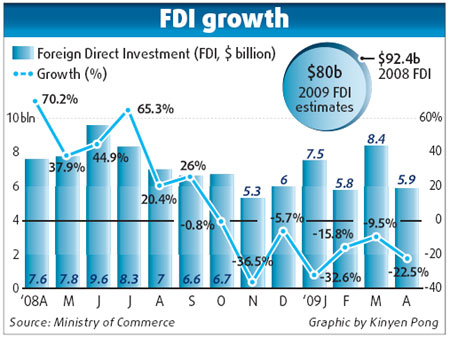 The nation will remain one of the main recipients of foreign direct investment (FDI) this year despite a sharp year-on-year decline in April, analysts have said.
Last month's FDI was $5.89 billion, down 22.51 percent from a year earlier, Dow Jones reported yesterday. The Ministry of Commerce refused to confirm the report but experts said the figure would not be far off the mark.
Related readings:


 FDI norms look set to be tweaked


 FDI warms up as spending kicks in


 FDI decline slows in March


 FDI falls for fifth month in February
Due largely to the global financial crisis, FDI has contracted for seventh months in a row, and the decline in April is markedly sharper than March, when it fell 9.5 percent.
Analysts said the April figure is not as bad as it appears if the high reference point a year ago is taken into consideration.
Most analysts remain optimistic about the outlook for inward capital flows, saying momentum will start to pick up later this year as the global economy recovers.
"We were worried about overheating earlier last year," said Lu Jinyong, a professor at University of International Business and Economics in Beijing. "But the business environment has changed quite dramatically since. Year-on-year comparisons do not make as much sense now."
In April 2008, actual FDI surged 70 percent from the same period the previous year to total $7.6 billion. Much of it, some experts argue, was so-called hot money trying to profit from the expected appreciation of the yuan against the US dollar.
"Given the high base last year, China should neither feel too surprised nor dejected by the recent FDI figures," said Dong Xian'an, macro-economic analyst with Southwest Securities, a major domestic securities brokerage. "There is other data showing that the economy is bottoming out. And that's the big picture.
"The economy's contraction is likely to relax in the second half of the year, and it is very likely that FDI inflows will recover and start to increase at the turn of the year," Dong said.
Su Chang, a macroeconomic analyst with China Economic Business Monitor, forecast that as the global situation becomes more stable, China's FDI performance will improve in the next few months.
Lu estimated that China's FDI will be around $80 billion, not too drastic a drop from last year's $92.4 billion.
Even with an expected FDI decrease, "China will be one of the few bright spots in the world," Lu said.
According to a white paper on American business in China released last month by the American Chamber of Commerce, 22 percent of American companies said China was their No 1 global investment destination. Between 75 and 78 percent ranked the country as one of their top three investment destinations every year since 2004.