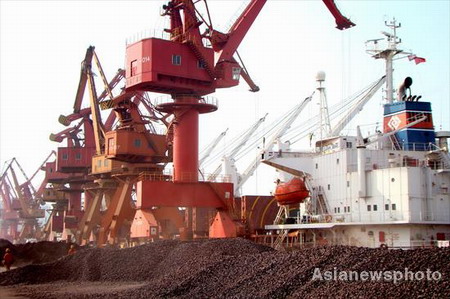 Iron ore is being offloaded from a ship at Lianyungang port, Jiangsu province on March 17, 2009. [Asianewsphoto]
China imported record amounts of iron ore in April and was also a net steel importer for the second month running, as the industry grappled with falling domestic ore output and slumping steel exports.
The country imported a record 57 million tons of iron ore in April, an all-time high, up 9 percent from a month ago and 33 percent greater than last April.
Related readings:


 Chinese steel mills turn to more imported iron ore


 China steel makers, iron ore suppliers avoid price talks


 China imports record volume of iron ore in March


 Iron ore price cut of 82% 'unlikely'
Customs data also showed China was a net importer of nearly 900,000 tons of crude steel, marking the second month running that inflows have exceeded outflows for the country, which had been a net steel exporter since 2005.
"All of them are surprising figures. The figures show that oversupply is very likely to worsen in May and June," said a senior trading executive in a State-owned steel mill, who asked not to be identified, as he was not authorized to speak to the media.
"Domestic steel prices will not hold at the current level for a long time," he added.
Steel product imports, at 1.62 million tons, exceeded exports of 1.41 million tons, which were the lowest since October 2004.
Traders said relatively high steel prices in China have encouraged eastern European mills to ship products to China.
Record iron ore imports reflected slowing domestic output due to the high cost of production compared with mines in places like Australia, Brazil and India, and that hunger for foreign ore is also feeding into freight rates.