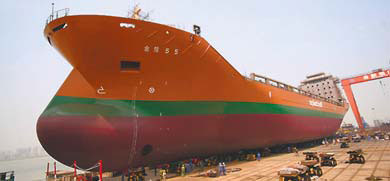 By way of contrast with the many deserted clothing and toy workshops used to produce goods for foreign clients, the shipyard in Jingjiang is a hive of activity as it prepares vessels for export.
It does not imply the economy is on the mend but that the downturn has yet to be felt by China's shipbuilding industry. Because of the long term nature of the business, the shipyard, a two-hour drive from Shanghai, is working on orders taken before the outbreak of the current financial crisis and could well still be doing so until 2011 or 2012.
However, the order books are no longer filling up.
"We are feeling the impact because we are not receiving new orders," said Laura Feng, a senior manager at Sainty Machine Co Ltd Jiangsu province, a company ranked 18th on China's vessel exporting businesses.
Related readings:


 Shipbuilding stimulus plan made public


 Glut of steel could worsen as shipbuilding orders plunge


 Shipbuilding stimulus plan under discussion


 Shipbuilding industry to see blue in three years
"The buyers of ships have become highly critical when examining their vessels on delivery," she said. "Sometimes they negotiate a delay in the ship's construction or delivery. Some of them haggle to get the down payment or even the final price down. This didn't happen before."
It's a far cry from the days when buyers were prepared to pay top dollar for a speedy construction. Ship owners are not making money because of the lack of cargo traffic and in fact are losing it because they have to pay mooring and maintenance costs.
The global ship market was at a virtual standstill during the first quarter of this year. Only 26 smaller vessels were traded, which amounts to an approximately 95 percent reduction year-on-year, according to the China Ship Marketing Research Center.
Zhang Xinlong, deputy director of the center, said although China's ship makers and exporters had started making preparations for the recession last year, the situation was worse than they expected.
China's export-dependent economy has seen an alarming 20-percent slump in overseas trade in the first quarter of this year compared with the same period last year.
Of 33 items of key export products on the list of General Administration of Customs, only three goods saw a year-on-year growth based on trade value in the first quarter of 2009 - coal, crude oil and shoes.
Some key export products saw a dramatic cut. Corn fell by 88 percent, coke and semicoke by 95 percent, steel billet by 97 percent and cargo containers by 64 percent.
Some Chinese analysts are showing a conservative optimism regarding the situation in April for the first time in months, predicting a resurgence in exports.
Liu Nenghua, a researcher on macro-economics with Bank of Communications, said figures would show there was no further deterioration in the situation in April. He is predicting a 17 percent year-on-year fall in exports in April, almost the same as that in March.