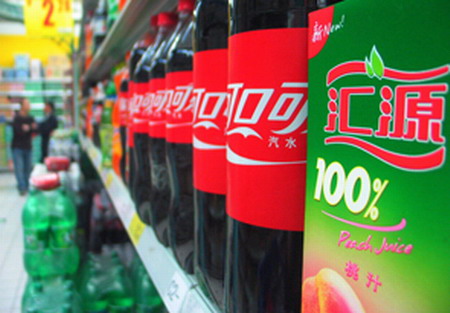 Huiyuan attracted attention from Coca-Cola because of the juice company's 44 percent market share. [China Daily]
Coca-Cola is set to abandon any attempt to take over Huiyuan Juice Group.
Shares in the leading juice maker recently rallied 22 percent on hopes that the Atlanta-based US company was set to take a compromise minority shareholding after a full $2.5 billion takeover was blocked by Chinese regulators.
But, according to a source close to the company, Coca-Cola, the world's largest beverage drinks maker with more than $28 billion worldwide sales, wants complete control of the company or no involvement at all.
"They are now going to give up the deal. They are not interested in Huiyuan anymore. There might have been market excitement about a minority shareholding but Coca-Cola wants full control. Buying a small stake with no decision power is not what they want at all," said the source.
Related readings:


 Huiyuan in asset sale talks again


 Huiyuan Juice turns to new ventures


 Coke fails to pass anti-monopoly review for purchase of Huiyuan


 Coca-Cola purchase of Huiyuan 'still under antimonopoly review'
The comments from the insider close to the controversial deal is the clearest indication yet of Coca-Cola's standpoint.
Official statements from the company have so far been ambiguous, leaving the door slightly ajar on the prospect of a last minute deal.
A recent official announcement just said that Coca-Cola does not comment on speculation.
"We were disappointed, but we also respect the Ministry of Commerce's decision not to approve our proposed purchase of the Huiyuan Juice business. We are now focusing all of our energies and expertise on growing our existing brands and continuing to innovate with new brands, including in the juice segment. Beyond that, it is our policy not to comment on speculation," said the statement.
Where the collapse of the acquisition leaves China's soft drinks market, estimated to be worth 283.6 billion yuan in 2008, up 14.5 percent from 247 billion yuan in 2007, according to market research organization Euromonitor International, remains to be seen.
Some believe, however, that the Ministry of Commerce's decision could backfire on Chinese companies in the short term, leading eventually to a loosening of the rules on foreign takeovers.
Michael Deng, who specializes in the soft drinks market at management consultants AT Kearney in Shanghai, said it could actually open the market up in the longer term.
"I think many of the leading brands from overseas will question the objectiveness of the decision. I think they would feel that the proposed deal was not anti-competitive but just an excuse from the Ministry of Commerce," he said.
"I think it could hurt many of China's ongoing mergers and acquisitions activities and that in the near future Chinese regulators may loosen the bar here. That ultimately could be good news for the foreign brands."
Coca-Cola wanted to take over Huiyuan because of its 44 percent share, according to research firm AC Nielsen, of China's pure juice sector.
Juices, along with canned tea drinks, sports drinks, soda and dairy drinks are set to be a key battleground as Chinese consumers look to more healthy alternatives to sweet carbonated soft drinks.
"Acquisition was a very easy way to get into the juice market for Coca-Cola," said Joy Huang, research analyst at Euromonitor International, based in Shanghai.
"Huiyuan dominates the 100 percent juice market and Coca-Cola just has its concentrated juice Minute Maid brand here."
There is no doubt that both Coca-Cola and its main rival Pepsi, which are estimated to have a stranglehold on the carbonated soft drinks market with a combined share of around 85 percent of the market, view more health-conscious drinks as a huge source of potential future sales in China.
"I think the increasing heath consciousness of Chinese consumers will continue. Right now, carbonated soft drinks are the largest category in the soft drinks industry. But going forward, tea, mineral water, juice and dairy drinks, have a stronger trajectory. I think ready-to-drink tea drinks will soon overtake carbonated drinks as the largest soft drinks category," said Deng at AT Kearney.
A number of Chinese companies have made inroads in the healthier drinks sector, most notably Wong Lo Kat, which makes herbal teas, Taiwan-based Tingyi, which is behind Master Kong ready-to-drink teas and another tea maker, Uni-President, which is also from Taiwan.
Other local successes include Xiangpiaopiao from Zhejiang province, which makes instant milk tea and which has built up 1 billion yuan sales.
There are also leading Chinese players in mineral water, including Yangshengtang, which makes Nongfu Orchard and Nongfu Spring.
Both Coca-Cola and Pepsi are known to be stepping up their research and development to produce herbal teas for the China market.
"The growth in health-conscious drinks such as herbal teas is very much in line with the rest of the world. When you have greater urbanization, increasing disposable incomes, health becomes a key trend which drives, not just tea, but juices, dairy and bottled water," said Max Magni, partner and leader of the consumer practice, Greater China, at management consultants McKinsey & Co in Shanghai.
Despite the setback for Coca-Cola with Huiyuan, the mergers and acquisitions should still prove an attractive strategy for the foreign brand owners.
One of the most acquisitive has been French conglomerate Danone, setting up a joint venture with China bottled water maker Wahaha in 1996 and then acquiring a 92 percent stake in Guangdong Robust Group, another bottled water producer, in 2000. It also holds a 22 percent stake in Coca-Cola's target Huiyuan. Currently, it is involved in a long on-going legal dispute with Wahaha's founder about the terms of the original acquisition.
Deng said it is potentially a good time for the major foreign players to be considering making acquisitions, if they can avoid coming up against the same opposition as Coca-Cola.
"I think it makes sense now because valuations are now lower as a result of the economic downturn and companies such as Pepsi and others are financially strong and abundant with cash," he said.
"The most attractive potential targets for them are the companies with strong brands and existing distribution channels. These would enable the foreign companies to achieve fast top-line growth through the synergies with their own distribution channels."
The soft drinks market in Beijing and Shanghai is seen as a relatively mature but the real opportunity will come in the rural areas, where those with the right brands and the distribution networks could succeed.
Deng at AT Kearney said penetrating the rural areas can prove very difficult for the foreign brand owners when it comes to establishing strong local sales forces.
"The people they hire tend to be better qualified than the people the local companies use. These people don't want to travel in the rural areas because they think it sucks and they want to stay in the city," he said.
Yet Magni at McKinsey said he believes the major players will overcome their disdain for the rural areas because of the huge potential returns.
"China clearly has the potential to become a larger market than the United States and a larger market than any other in the world. In volume terms I don't think it has got far to go but in per terms there is still a huge amount of growth to be had. In the soft drinks industry all eyes are here," he said.