The central bank will continue following a moderately loose monetary policy, its quarterly report said Wednesday, dispelling speculation that the stabilizing economy could prompt it to raise interest rates.
Related readings:


China has room to further rates cuts


Local govt bond issuers may tweak coupon rates


New loan growth may decline in April


Credit policy unchanged


Loan expansion robust in Shanghai
"The central bank will continue to ensure ample liquidity in the banking system and reasonably increase loans to fund the economy," the People's Bank of China (PBOC) report said.
The report also allays fears that a huge supply of loans in the first quarter could trigger a rise in property and other assets' prices, and thus lead to inflation.
"Positive changes have taken place in the economy and the situation was better than expected in the first quarter. But the foundation for a rebound is not yet solid," the report said. The credit growth has to increase further to counter the impact of a worsening world economy.
Tao Dong, chief Asia economist of Credit Suisse in Hong Kong, is certain about the normalization of the country's monetary policy. "China's economy is recovering faster than the rest of the world, so its monetary policy will normalize before other economies," he told Bloomberg.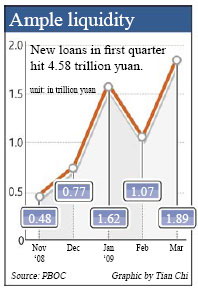 The PBOC is likely to maintain the one-year lending rate at 5.31 percent this year and raise it by 99 basis points only next year, Tao said. But it could reinstate the quota system as early as the next quarter, limiting the lending by banks to check a possible rise in property prices because of the increase in the amount of new loans.
New loans reached a record 1.89 trillion yuan ($277 billion) in March, pushing the first quarter's total to 4.58 trillion yuan, very close to the 4.9 trillion yuan for the whole of last year and the 5 trillion yuan goal set for this year.
The strong quarterly growth came after the government relaxed its curbs on loan growth in November, and tried to boost the economy with "ample liquidity" and a $586-billion stimulus package to counter the negative impact of the global financial crisis.
"Unless the economy signals a strong recovery, the PBOC will not change its monetary policy," Dong Xian'an, an analyst with Southwest Security, said. "It may tighten it a bit in the following months, though."
But many economists and experts have warned that despite the huge fiscal stimulus and some good signs in the first quarter, deflation is most likely to continue through the rest of the year.