The maker of Tamiflu, the weapon at the heart of the fight against the H1N1 flu virus, says it is ramping up production of the drug that has a main ingredient largely supplied by China.
Related readings:


 Flu likely to hasten launch of hog futures trading


 Tight border checks to ward off virus 


 Masks covetedat Canton Fair, prices skyrocket


 Airport health checks extend waiting time
"We have delivered 5 million emergency stocks of Tamiflu to the World Health Organization," Cao Yong, spokesman for pharmaceutical giant Roche (Shanghai), told China Daily yesterday.
"Governments worldwide have already ordered about 220 million doses of the drug."
Oseltamivir, marketed through Roche as Tamiflu, is the antiviral drug considered by medical experts to be most effective against flu variants such as H5N1 (bird flu) and the ongoing H1N1 outbreak.
Cao said his company is boosting production to ensure a continuous and increasing supply.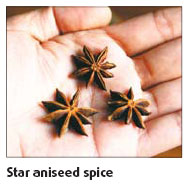 Roche, based in Basel, Switzerland, can make as many as 400 million doses of Tamiflu a year but increasing production to its maximum "takes some time", Cao said while also ruling out a price hike.
He said Roche is also increasing its stocks of the raw materials used in Tamiflu, including the star aniseed spice that produces shikimic acid - the major ingredient in the antiviral drug.
The dried, star-shaped fruit, mostly harvested from March to May, is a traditional ingredient in Chinese cuisine. Star aniseed exported from China reportedly accounts for 80 percent of the world's total, with the Guangxi Zhuang autonomous region one of the world's largest producers accounting for 85 percent of world's total output.
Last week, Health Minister Chen Zhu suggested at a news conference that people add star aniseed when cooking pork because it would "certainly be a good treatment for the flu".
The ingredient is already the subject of rising prices in a number of Chinese markets, with retailers reporting prices going up from about 9 yuan ($1.3) a kilogram for the spice to as much as 14 yuan a kilogram in places including Shanghai.
"In Guangxi, the wholesale price of star aniseed has increased by 30 percent, from 7 yuan to the current 10 yuan per kilogram," said Li Yi, the secretary-general of the Guangxi flavors and fragrances industry association.
Spice retailer Zhou Gendi added: "The price of star aniseed this week has jumped considerably. Many people come to buy it they believe star aniseed will help with the flu.
"A month ago, there was plenty of star aniseed supply that might become a problem as well," he said.