A cutting edge new development in Beijing is expected to be the country's first building to win a prestigious award for being environmentally friendly.
Parkview Green, being developed by Hong Kong Parkview Group Ltd, is in line for a platinum award from the Leadership in Energy and Environmental Design (LEED) green building rating system.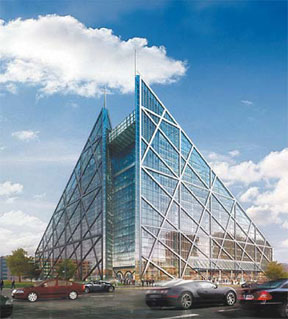 A view of Parkview Green. File photo
The accreditation, developed by the United States Green Building Council (USGBC), provides a suite of standards for environmentally sustainable construction. Since its inception in 1998, LEED has grown to encompass more than 14,000 projects in 50 US States and 30 countries. The hallmark of LEED is that it is an open and transparent process where the technical criteria proposed by the LEED committees are publicly reviewed for approval by the more than 10,000 membership organizations that currently constitute the USGBC.
The rating system offers four certification levels for new buildings – certfied, silver, gold and platinum. Credits are accrued in five design categories – sustainable sites, water efficiency, energy and atmosphere, materials and resources and indoor environmental quality.
Currently about 150 buildings in China have received LEED certification but none has reached platinum standard.
Parkview Green is in the middle of the Central Business District, east of Tiananmen Square, bounded by the Third Ring Road and the Diplomatic District to the north.
Leo Hwang, executive director of Parkview Green, says sustainability is a key element in the project. The pyramid-shaped transparent building acts as what is described as a microclimatic envelope that not only protects internal spaces from the elements but also creates an air chamber that stores thermal energy, at the same time significantly reducing the building's energy footprint.
It will incorporate offices, a luxury boutique hotel and four levels of retail within its 18 storeys.
The greenest and most expensive part is the environmental envelope, which is a combination of steel, glass and ethyl tetra fluoro ethylene (ETFE), a tough, self-cleaning, recyclable material used in the construction of the Eden Project biospheres in Cornwall, England, and also in the blue bubble walls in Beijing's Water Cube, also known as the National Aquatics Centre.
ETFE foil is strong, transparent and lightweight. A piece of ETFE weighs less than one percent of a piece of glass with the same volume. It is also a better insulator than glass and it is much more resistant to the weathering effects of sunlight.
The building's air conditioning is also energy efficient and there is a "grey water" recycling system.
It is estimated the building will reduce energy consumption by 16 per cent over traditional designs in summer, 30 per cent in spring and autumn and up to 80 per cent in winter.
The focus on the environment doesn't end with the building. The designers have incorporated plans to plants local trees that require little water in the grounds and a roof terrace with furniture made from recycled wood.
The Chyau Fwu Group was started in the late 1950s by Hwang's grandfather in Taiwan. In 1980 the family moved to Hong Kong and began making significant property acquisitions, including the site where it built the luxurious Hong Kong Parkview.
"My grandfather said that when you develop a building it has to stand the test of time because it is a legacy that you are leaving for many generations to come," Hwang said.
He said that the environmental design was born out of a desire to build the best building possible for the tenants, both in term of quality and performances. The environmental benefit is a natural effect of world class architecture and engineering.
He plans to hold exhibitions in Parkview Green to raise awareness amongst all visitors to the building about the benefits of living a green lifestyle. Also to bring together companies which are committed to building a greener China.
The speedy rate of urbanization in China will see some 400 million people move to cities over the next 15 to 20 years, analysts predict. That is equivalent to filling two New York cities every year during that period.
That level of migration will create a demand for greener buildings. China's urban residents already consume three times the energy of those who live in rural areas.
Robert Watson, founding chairman of the LEED green building rating system, launched EcoTech International (ETI) to bring a combination of green building expertise, innovation and key clean-tech technology solutions to developing countries, particularly China and India. ETI estimates that the potential market for energy-efficient green buildings in China alone will be more than $55 billion within five years.