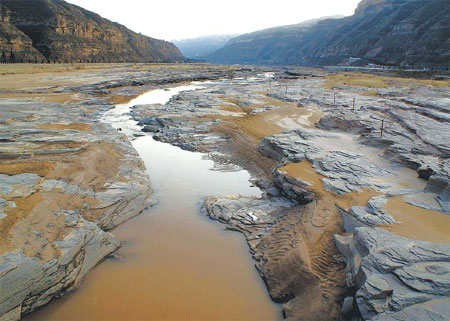 The Hukou section of the Yellow River in North China's Shanxi province. Climate change and global warming continue to pose a threat to the environment and water supply across the country. [Asianewsphoto]
The world's major greenhouse gas emitters gathered in Washington D.C last week, trying to lay the groundwork for a global deal to fight climate change, but progress was limited.
The two-day major economies meeting on climate change was meant to pave the way for international talks in Copenhagen in December, seeking to forge a successor to the Kyoto Protocol, which expires in 2012.
While the meeting was held with a "constructive atmosphere", and the United States, the host of the meeting, displayed its willingness to lead in climate talks, there is a lot more to be done.
Related readings:


 Climate change: EU, China have work to do


 EU countries to coordinate measures against climate chage


 Tough climate change policy would benefit China 


 Asia-Pacific has vital role in climate change
"Unfortunately, while the meeting brought soaring and inspiring rhetoric, reflecting the profound change in US climate policy, it brought little in the way of real progress," Carroll Muffett from Greenpeace was quoted by Reuters as saying.
Su Wei, a leading figure in China's climate change negotiating team, had expected more discussion on the transfer of environmentally sound technologies from industrialized countries to the developing worlds.
"(The meeting) touched upon green technologies, research and development, and cooperation, but made no mention of technology transfer," said Su, who is the director general of the climate change department under National Development and Reform Commission (NDRC).
Many climate change-related technologies are unavailable at reasonable prices in developing countries and this meant those technologies could not be employed in parts of the world where they were needed the most, according to Su.
He said that developed countries could provide more economic incentives to private firms to facilitate the technology transfer.
Su also suggested that China could launch joint research with other countries in developing new green technology.
There are already some detailed plans seeking real and substantial cooperation on fighting climate change, proposed by experts from both China and US, who have been working closely.
At a workshop held in Beijing last month, John Podesta, president of the Center for American Progress, proposed a joint carbon capture and storage program, as the two countries share an abundance of coal reserves and a similar reliance on coal as a major energy source.
Podesta went as far as detailing the plan to build at least three pilot sequestration projects in the US and two in China, after conveying a full assessment of the geological carbon storage capacity in both countries.
But, differences among different countries still exist and are a major obstacle to reaching an agreement for a UN pact at Copenhagen, Su told Xinhua.
Developed and developing countries disagree with each other on the historical responsibility of greenhouse gas emissions, and the room left for developing countries in terms of future development, Su said.
Differences also existed within the rich country clubs, in terms of capping greenhouse gas emissions, with the European Union being the most aggressive promoter to cut carbon dioxide emissions, said Su.
Although US climate policy has changed dramatically since the Obama administration took over, the world's largest historical greenhouse gas emitter could still "stride at a faster pace", with a higher emission reduction goal and stronger movements towards a low carbon economy, Su said.
Obama's goal is to cut US greenhouse gas emissions roughly by 15 percent by 2020, and take it back to 1990 levels. The EU has suggested a target of 20 percent reduction by 2020 for all industrialized countries.
"Obama's target is based on emission levels in 2005, instead of 1990, where the EU set its baseline. That's a big difference," He Jiankun, a Tsinghua professor and deputy director of China's national climate change expert panel, told China Business Weekly.
The US is still on its way to finish domestic legislation for the proposed target, and He also noted that its position in international talks on climate change is strongly linked to the fate of a climate change bill, now moving through Congress.
"Uncertainty remains within the international community in terms of what concrete actions US could come up with," He said, "this is another reason for the current stagnancy of climate change negotiations."
Speaking of China's commitment to fight global warming, He said that China is considering a goal to reduce carbon intensity, even though as a developing country it does not have obligations for carbon emission reductions.
"The goal will be in line with the country's 11th five-year plan to increase energy efficiency," He said, "but it definitely won't be a quantifiable emission reduction target, as it will depart from the principles agreed in the Bali Road Map."
Kyoto Protocol, which sets binding targets for 37 industrialized countries and the European community for reducing greenhouse gas emissions, will expire in 2012.
Bali Road Map, which was agreed in 2007, charted the course and set the timetable for international discussions on a global pact for climate change after 2012.
The major economies represented at the meeting included Australia, Brazil, Britain, Canada, China, the European Union, France, Germany, India, Indonesia, Italy, Japan, the Republic of Korea, Mexico, Russia, South Africa and the United States.
Denmark, which will host a UN climate change meeting in December, and the United Nations were also invited.
Another meeting is set for the end of May, in Paris and a third meeting is planned for June.
While such meetings are conducive to build mutual understanding among climate officials from different countries, they cannot replace the process of negotiations within the UN Framework Convention on Climate Change, Su noted.
"China always holds that final decisions should be reached under the multi-lateral framework," He said, "no concrete carbon reduction targets can be decided privately at these meetings."