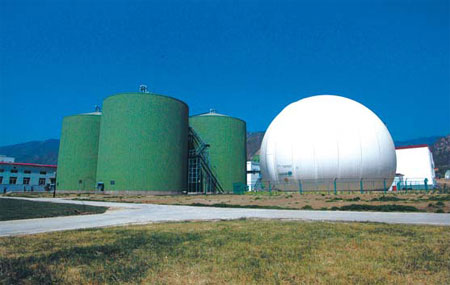 Gas silos at the farm.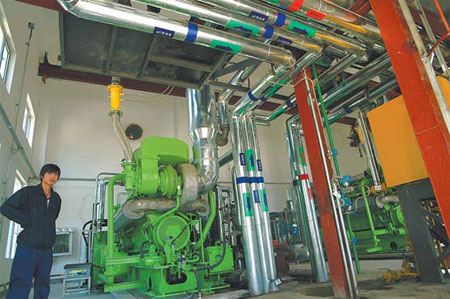 The manure converted into gas.
The aim of agriculture has always been self-sufficiency but one farm near Beijing has taken matters one step further.
DQY Ecological Farm, next to Beijing Songshan National Nature Reserve, not only produces 71 percent of the capital's organic eggs, it is now also producing its gas and electricity needs.
The pioneering company last year installed a special plant that converts manure from its 3 million chickens into methane. Some of this is then converted into electricity.
Originally that provided sufficient energy to supply the power needs of the farm. Now it is selling the excess to the North China Grid at $0.1 per kWh.
Related readings:


 Farm product exports decline


 Direct shipping helps import more Taiwan farm produce


 Farmers income growth a priority for govt


 Feeling the pinch of sagging prices
And what an excess it is. It amounts to 14,600 MWh a year, which is sufficient for 10,000 families in Beijing, Tianjin and the Inner Mongolia autonomous region.
The farm also uses manure as fertilizer to enable farmers to grow fruit and vegetables, including corn with which to feed the chickens.
It is proving to be so successful that businessmen are lining up to study it. As many as 30 delegations a month visit the farm.
The farm installed China's first gas engines last August to generate power and heat from the 80,000 tons of manure produced annually by its chickens.
By using biogas for power generation in place of its previous coal-fired source, the farm is cutting its CO2 emissions by about 95,000 tons a year.
Gu Qing, vice-president of the farm, said there were now plans to emulate the model in other parts of the country.
Liu Mingliang, the head of Luoshuiyu village, said all 300 households in the village have been using the biogas for cooking and heating free of charge since 2007.
"The flame is much bigger than natural gas and can save almost five minutes in boiling a kettle of water," he said.
"This biogas project will quickly pay for itself by meeting DQY's demand for cost-effective electricity and heat," said Jack Wen, president and region executive of GE Energy China. "We estimate customers will collectively save more than $1.2 million a year in electricity costs alone."
Dung and droppings from cattle, swine, chicken, and other farmyard animals produce methane, a greenhouse gas that has 25 times the heat-trapping potential of carbon dioxide. According to a 2006 Food and Agricultural Organization study, the world's animal agricultural sector emits 18 percent of human-induced greenhouse gases - more than the transportation sector. And with livestock numbers expected to double by 2050, many countries are looking at ways to cut the output of their gases.
DQY has proved to be a major success story since it was built in 2000. In 2001 it produced 1.5 million eggs which yielded a sales revenue of 700,000 yuan. Last year it was expected to produce 372 million eggs with an envisaged sales revenue of 255 million yuan. It has spawned an associated organic farming business producing 700 tons annually of fruit and vegetables from strawberries to zucchini in a row of polytunnels and open fields.
DQY is a foreign-invested company with registered capital of 208 million yuan (as of June 30, 2007). Its shareholders consist of Beijing Deqingyuan Science and Technology Co Ltd, GEF-Global Environment Fund, InnoBiz Agriculture Co Ltd of Hong Kong, Shanghai Yibei Management Consultancy Company, IFC and six individuals.
Its aim is to play a leading role in sustainable agriculture.
The farm covers an area of 50 hectares and is 100 km from the center of Beijing.
The chickens are kept in 19 laying houses each containing eight tiers of battery cages. Computers control water supply, feed, ventilation, egg collection, lighting, temperature, humidity and manure collection.