China Southern Airlines Sunday canceled a chartered flight due to pick up Chinese citizens stranded in Mexico because of the A(H1N1) flu outbreak, Shanghai-based Dragon TV reported.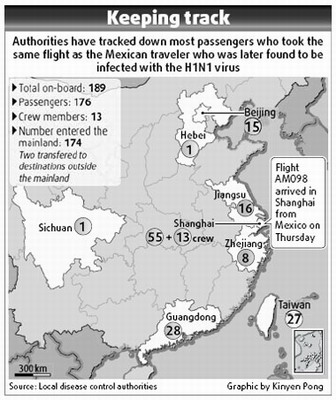 The plane, which was supposed to take off from Guangzhou Sunday night, was canceled as the airline was unable to reach a landing arrangement with Mexican airports, the report said. The government has suspended flights from Mexico. It is not known when they will resume.
Sixty-eight people who were on the same Mexico City-Shanghai flight with a Mexican man later diagnosed with the H1N1 flu in Hong Kong, have been located and are in quarantine in Shanghai, health officials said Sunday.
None have displayed any flu symptoms, according to Xu Jianguang, head of the municipal health bureau. The 25-year-old tourist made a brief stop at Shanghai's Pudong airport en route, arriving on flight AM098 before going to Hong Kong on flight MU505.
Meanwhile, Mexican media have highlighted China's help in the fight against the flu, which has killed 19 Mexicans and sickened at least 454.
President Hu Jintao on Tuesday sent a consolatory message to his Mexican counterpart Felipe Calderon. He said China is willing to provide any necessary assistance to Mexico.
The central government also pledged $5 million in aid to Mexico on Thursday - $1 million in cash and $4 million in medical supplies - with the first batch arriving on Friday.
Calderon said the measures adopted by China to tackle the SARS outbreak in 2003 were helping in Mexico's fight to halt the killer flu's spread.