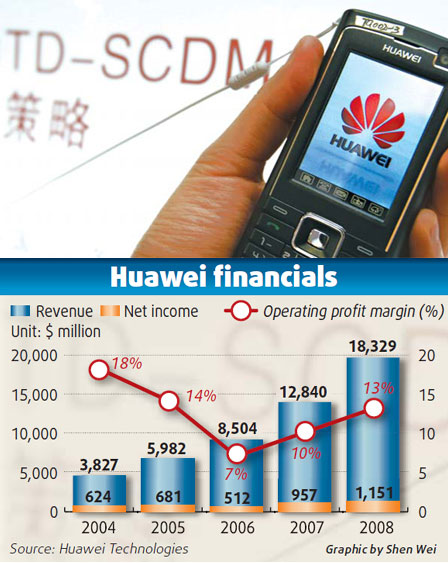 A sample Huawei phone suppoting China's home-grown 3G mobile standard shown in this file photo. [CFP]
Chinese telecom equipment maker Huawei Technologies said yesterday its net profit jumped 20 percent in 2008, driven by strong overseas sales in emerging markets and improved profit margins.
Its robust profit growth is in stark contrast to other global telecom gear makers who have all reported plunging profits or huge losses amid the global financial crisis.
The Shenzhen-based company, now the world's third biggest telecom gear maker, chalked up $1.15 billion in net income for 2008 against $957 million in 2007, while its revenue surged 43 percent from a year earlier to $18.3 billion.
Related readings:


 Chinese telco giant Huawei to invest in PNG


 ZTE, Huawei expect overseas business to rise 30%


 Huawei estimates sales to climb 35% despite crisis


 Huawei puts terminal unit sale on hold
"This is actually a fast growth figure considering others are in sharp decline," said Duncan Clark, chairman of BDA China, a leading consulting and market research firm that focuses on the telecom, media and technology sectors.
Huawei's operating profit margin increased by 3 percentage points to 13 percent, the company yesterday said in its annual report.
Huawei, which now gets 75 percent of its sales revenue from abroad, expects to sign contracts worth $30 billion this year, up 29 percent from last year's.
The company got 46 percent more contracts in 2008 (worth $23 billion) as it continued to gain market share in emerging markets.
"In 2009, we believe that Huawei will maintain its pace of steady growth and this will be driven mainly by 3G network deployments in emerging markets, including the Asia-Pacific region, and particularly in China," the company said in the statement.
Whether Huawei can sustain the high-growth momentum this year will depend on its performance in emerging markets, especially in Africa and Latin America, analysts said.
The global financial crisis, they said, may even provide Huawei with fresh market opportunities."Huawei may stand to gain more market share this year, especially in Europe and the US, as operators there will take the cost factor more seriously," said Clark.
Huawei and its smaller domestic rival ZTE have been expanding aggressively overseas in recent years, especially in emerging markets.
ZTE, which posted a 33 percent jump in its 2008 net profit, saw its overseas revenue account for 60 percent of its total last year.
ZTE, also based in Shenzhen, saw its net profit rise to 1.66 billion yuan last year while its revenue jumped 27 percent from a year earlier to 44.2 billion yuan, it said last month.
The two companies' brisk profit growth is in sharp contrast to their once-mighty global peers, who suffered as telecom operators pulled back spending as a result of the global economic downturn.
The world's biggest telecom equipment giant Ericsson's profit fell by 48 percent last year, while Franco-American telecom gear maker Alcatel-Lucent posted a loss of 5.2 billion euros in 2008.
The industry-wide slowdown even forced the Canadian vendor Nortel Networks to file for bankruptcy protection in January.