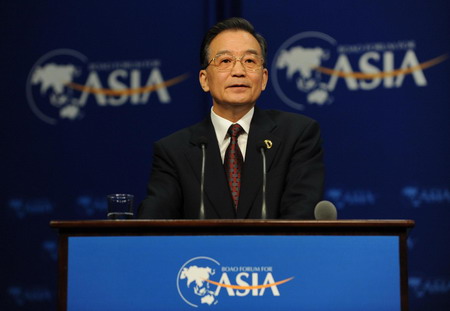 China's Premier Wen Jiabao delivers a speech during the opening ceremony of the Boao Forum for Asia Annual Conference 2009 in Boao, Hainan province, April 18, 2009.[Xinhua]
The Boao Forum for Asia (BFA) Annual Conference 2009 officially opened in the scenic Boao town of south China's Hainan Province on Saturday, focusing on the role of Asian countries, especially emerging economies in this region, amid the global financial crisis.
Related readings:


 China calls for int'l co-op to "save the world"

 Tackling global downturn tops bill at Boao


 Boao Forum to focus on Asia under financial crisis

Chinese Premier Wen Jiabao delivered a keynote speech, "Strengthen confidence and deepen cooperation for win-win progress", at opening plenary meeting.
He said that the conference, with "Asia: Managing Beyond Crisis" as its theme, is a highly important one. It will contribute to the efforts to build consensus, strengthen confidence, deepen cooperation and overcome the crisis.
Wen introduced the steps China has taken to cope with the severe impact of the global financial crisis, saying the country's package plan is already "paying off", and positive changes have taken place in the economy.
China's gross domestic production (GDP) rose 6.1 percent in the first quarter of this year, the slowest pace in a decade.
However, the situation is "better than expected", the premier said, citing pick-ups in investment, consumption and industrial output, as well as ample liquidity in the banking system.
He said domestic demand is boosted in a comprehensive way, industrial output has gradually stabilized, and agricultural production is on the whole stable. Economic restructuring has made encouraging progress, and urban employment has risen as 2.68 million jobs were created in the urban areas in the first quarter.
"We should not, however, lose sight of the fact that the international financial crisis is still spreading, the basic trend of world economic recession is not reversed, problems in the financial system remain unsolved and the worsening of the real economy has been more serious than expected," he warned.
The global economic recovery may be a long and tortuous process, he said.
In the face of the spreading financial crisis, Wen vowed, China will continue to work with other Asian countries to actively tackle challenges and advance all-round cooperation with a view of enriching and energizing cooperation and promoting peace and prosperity in the region.
"We should make greater efforts to promote free trade and expand intra-regional trade," the premier said.
He called on Asian countries to strengthen financial cooperation and maintain regional financial stability.
"We should accommodate each other's concern to the greatest extent possible, build consensus and establish a regional reserve pool as early as possible so as to better protect our region from financial risks," he said.
He suggested that investment cooperation be deepened to drive regional economic growth.
China has decided to set up a $10-billion "China-ASEAN Fund on Investment Cooperation" to support infrastructure development in the region, according to Wen.
He called on Asian countries to advance "green" cooperation and promote sustainable economic growth in the region in energy conservation, environmental protection and development and utilization of new and renewable energies, while fostering new growth areas in the Asian economy.
Finally, Wen said, Asia should enhance collaboration and coordination in international affairs and promote world peace, stability and prosperity.
"We should advance reform of the international financial system, increase the representation and voice of emerging markets and developing countries, strengthen surveillance of the macroeconomic policies of major reserve currency issuing economies, and develop a more diversified international monetary system," he said.
More than 1,600 political leaders, business people and academic scholars gathered in the island resort for the conference, which will conclude on Sunday.
Leaders attending the event include Iran's First Vice-President Parvis Davoodi, Myanmar's Prime Minister Thein Sein, Vietnam's Prime Minister Nguyen Tan Dung, Papua New Guinea's Prime Minister Michael Thomas Somare, Kazakh President Nursultan Nazarbayev, Pakistan's President Asif Ali Zadari, Albania's Prime Minister Sali Berisha, Mongolia's Prime Minister Sanj Bayar, and New Zealand's Prime Minister John Key.
Delegates have discussed the effect of the crisis on Asia, the steps taken by Asia to weather the challenges effectively, the role of emerging economies in reforming the global financial system, and the balance between financial regulation and innovation.
BFA was established in 2001 as a platform for high-level interaction between political and business leaders from Asia and around the world. It is aimed at promoting the development goals of Asian countries through greater regional economic integration.