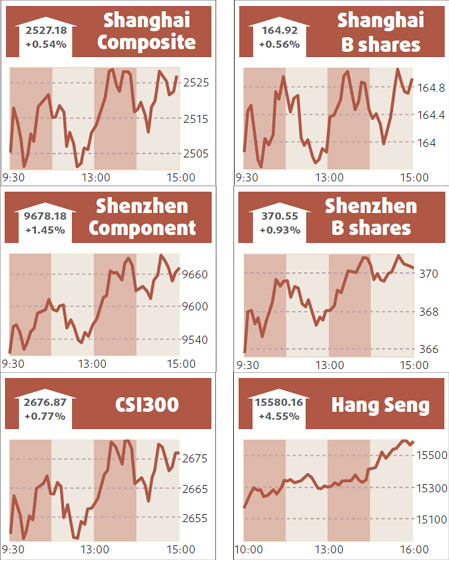 The mainland stocks rose 0.54 percent in heavy trade to an eight-month closing high yesterday, with property and auto shares outperforming although some energy and resource shares fell after sharp recent gains.
The Shanghai Composite Index ended at 2527.181 points, its highest close since Aug 8 and rising for a fourth straight day. Turnover in Shanghai A shares was heavy at 161.6 billion yuan, although down from Monday's hectic 187.3 billion yuan.
"Money poured into sectors that had lagged the market rally but profit-taking pressure will increase as the index surges," said Zheshang Securities analyst Zhang Yanbing.
He warned that a bout of profit-taking could knock 200 points or more from the index in coming days or weeks.
Related readings:


 Hong Kong stocks close 4.55% higher


 Chinese equities edge up 0.54%, led by real estate


 Stocks up on robust indicators


 Chinese shares rise 2.84% on recovery hopes
Some analysts said the market may be set for consolidation after the benchmark index on Monday breached the 250-day moving average, a key technical resistance level now at 2461 points, for the first time in 13 months. The moving average had offered stiff resistance and capped recent rallies.
"Consolidation around the resistance area will be positive for the index. The uptrend remains unchanged," said Huatai Securities analyst Zhou Lin, citing signs of an early economic recovery and ample liquidity in the market.
Property industry leader Vanke advanced 3.06 percent to 8.76 yuan. SAIC Motor jumped 8.41 percent to 10.57 yuan while Beiqi Foton Motor raced up its 10 percent daily limit to 11.09 yuan.
Several energy and resource shares were hit by profit-taking, however.
Jiangxi Copper slipped 1.19 percent to 26.51 yuan. PetroChina edged down 0.42 percent to 11.89 yuan after rising 4 percent on Monday.
HSI up 4.6%
Hong Kong shares galloped to a four-month closing high yesterday, piling on 4.6 percent in hectic trade after the Easter break, buoyed by hopes for stabilization in the financial sector and reassuring data from the mainland.
HSBC led the charge with a 9.3 percent jump, rising to HK$55.60, a level last seen before Europe's largest bank announced its massive cash call in March.
The benchmark Hang Seng Index ended up 678.75 points at 15580.16, its best closing level since early December 2008.
Turnover had swelled to a three-month high of HK$75.4 billion, compared with just HK$52.7 billion on Thursday.
Reuters