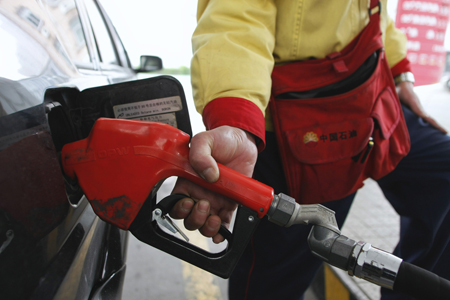 A PetroChina attendant fills up a customer's car with gasoline at a gas station in Shanghai. [Bloomberg News]
China's three major oil companies have little to gain from the lower global crude prices, according to industry analysts.
The low crude prices could dent the bottom lines of CNOOC and PetroChina this year, while oil refiner Sinopec may see lower production costs, but not better revenue, they said.
Officials at the three oil companies have all forecast that global oil prices would be hovering around the $50 per barrel mark for most of this year. Crude prices had touched a record high of $147 per barrel in July 2008.
Sinopec is expected to benefit most from the relatively low oil price, as its refineries would have lower production costs, said Qiu Xiaofeng, analyst, China Merchants Securities.
Related readings:


 Oil declines on IEA report


 Sinopec plans 4 new oil stockpiles


 China discovers two new oil fields in East China's Bohai Bay

 Total crude output at China's largest oilfield tops 2b tons
The low prices will have a negative impact on PetroChina and CNOOC, as a large part of their profits come from crude production, he said.
The gap between the high crude prices in the international market and the relatively low prices of refined oil products domestically has put Sinopec's refining business in the red.
The company's refineries were hit by soaring costs and incurred losses of 61.5 billion yuan in 2008.
The company's net profit was 29.7 billion yuan last year, down 47 percent from 2007.
"Given the low oil price this year, we expect Sinopec to see an 80 percent growth in its profit this year," said Liu Gu, analyst, Guotai Junan Securities in Shenzhen.
"PetroChina may manage to have the same profit as last year, while CNOOC will see a 30 percent fall in profit this year," she said.
PetroChina's net profit last year was 114 billion yuan, a decrease of 22 percent from a year earlier. CNOOC's 2008 net profit rose 42 percent to 44.4 billion yuan because of growth in production and higher oil and gas prices last year.
Liu said international crude oil price will have the biggest effect on the three company's business performance, but other factors such as windfall taxes may also play a crucial role.
The stimulus package for the petrochemical industry will also give them a boost, she said, adding the move will improve the investment environment.
China imported 16.34 million tons of crude oil in March, the General Administration of Customs said in a statement last Friday.
March's crude import level was up 33 percent from February's 11.73 million tons, which may indicate that the world's second-largest oil consumer is on course for an oil demand recovery.
The nation plans to boost production of oil and natural gas by 4 percent and 58 percent respectively by 2011. Crude oil output is expected to touch 198 million tons, while natural gas production will be 120 billion cu m in 2011, according to a three-year plan by the National Energy Administration (NEA).
Under the blueprint, China will build some large oil and gas production bases over the next three years. The country will increase its total oil refining capacity to 440 million tons by the year.
The global financial crisis has had a negative impact on China's economy and the country's energy sector is no exception, said Zhang Guobao, head of NEA.
However, the country's energy industry still has vast development potential as the huge population dictates demand.