The government's revenue fell 8.3 percent from a year earlier in the first quarter, as the economic downturn hurt corporate profits and recent tax cuts took effect.
Revenue dropped to 1.46 trillion yuan in the first three months, 132.9 billion yuan less than the same period last year, the Ministry of Finance (MOF) said on its website yesterday.
In March, revenue fell to 440.2 billion yuan, 1.37 billion yuan less than the same period a year ago.
Related readings:


 1Q fiscal revenue down 8.3% as spending goes on


 Revenues decline 11.4% in Jan-Feb


 China's February fiscal revenue down 1.2%


 Tax revenue up 18.8% in '08, slows in 2H
The revenue decline in the first quarter, the MOF said, was largely due to the economic crisis that affected corporate profits. The government's recent move to increase export tax rebates and tax cuts on house purchases, bank savings, and stock trading also dented State coffers, it said.
Besides, the declining producer price index (PPI) and consumer price index (CPI) over the past few months also reduced revenue, whose calculation is based on current prices.
"The fiscal revenue situation in the coming months is not optimistic," it said.
The MOF revealed that the government spent 1.28 trillion yuan in the first quarter, as much as 330 billion yuan more than the same period last year, an increase of 34.8 percent from a year ago.
The government spent 500.7 billion yuan in March, 119.8 billion yuan more than the same period last year.
"As anticipated, the first quarter data shows that China's fiscal situation is undergoing tight pressure," Liu Shangxi, senior researcher from the Research Institute for Fiscal Science said.
"Government spending in the coming months will continue to be strong considering the 4-trillion yuan stimulus package and other expenditure, such as the State Council's approval of 850 billion yuan for reforming the health care system."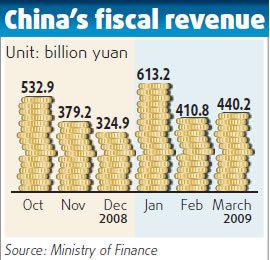 He added that the fiscal situation would not improve until the stimulus package aids in economic recovery and boosts corporate income.
The Chinese government expects revenue to grow 8 percent in 2009, much slower than previous years. Its revenue climbed 18.8 percent in 2008 and 32.4 percent in 2007.
Policymakers have planned for a budget deficit of 950 billion yuan for the year, a six-decade high, as it ratchets up spending to cushion the impact of the global financial crisis.
Premier Wen Jiabao said in his government work report last month that the deficit level posed no threat to the overall economic stability, as it was well below 3 percent of the nation's GDP. The government's total debt is less than 20 percent of its GDP, much lower than most of the other nations.