The decline in inward foreign direct investment (FDI) began to show signs of easing in March, according to figures released by the Ministry of Commerce yesterday.
In March, actual FDI was $8.4 billion, down 9.5 percent from a year earlier but an improvement on the year-on-year decline of 15.8 percent in February.
It was the sixth straight month when the nation - the leading FDI recipient among developing countries - failed to see an increase.
Related readings:


 FDI drops 15%, declines forecast for next few months

 FDI falls for fifth month in February


 Local govts get nod to okay FDI up to $100m

 Enduring slump in FDI flows beckons changes

Analysts said the worst may have been over for capital inflows and that there is a distinct possibility that no sharper decline would occur in the coming months, with some expecting the figures to return to positive territory in the third quarter.
"The March figures give us some positive data, and this should be a good beginning," said Dong Xian'an, macro-economic analyst with Southwest Securities, a major domestic securities brokerage.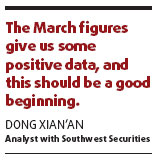 Dong said the FDI figure is closely related to China's exports, because exports of foreign enterprises follow investment.
"So when exports get better, FDI will get correspondingly better," he said.
The country's exports fell 17.1 percent to $90.29 billion in March, a decline also milder than the previous month's record plunge of 25.7 percent, according to data released by the Chinese Customs on Friday.
Su Chang, a macro-economic analyst with China Economic Business Monitor, forecast FDI inflows to start increasing in the second half.
"Clearly, China is one of the few major countries whose economy can still maintain net growth. That alone is attractive enough for overseas investors," he said.
A survey by the United States-China Business Council last month showed that more than 88 percent of foreign businesses in China are profitable, and 81 percent have a higher profit margin in China than elsewhere.
Yao Jian, spokesman for the Ministry of Commerce, said in an earlier interview that China remains the most attractive destination for FDI because of steady economic growth and the large domestic market which is continuously being opened up.
He said the government has adopted many policies to boost domestic demand and increase exports since the global financial crisis started, which will further raise the confidence of foreign investors. "With all these efforts, FDI will show a steady increase."