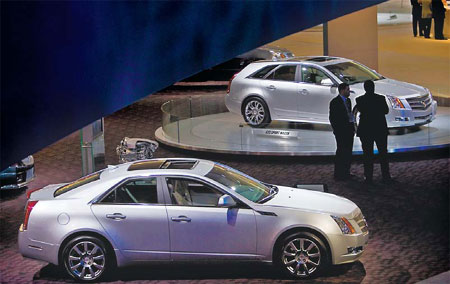 GM Cadillac vehicles on display at the 2009 North American International Auto Show in Detroit, Michigan. [Agencies]
General Motors Corp, which is still struggling for survival in the global industry downturn, has set an ambitious target of doubling its China sales over the next five years, based on its healthy and profitable operations in the country, according to its China head.
Related readings:


 Car major inches closer to bankruptcy


 GM CEO softens company's opposition to bankruptcy


 GM and Segway unveil new two-wheeled urban vehicle

"Over the next five years, we expect to double our sales in China to over 2 million units. We have all the key fundamentals in place," said Kevin E Wale, president and managing director of GM China Group yesterday.
Last week, the Obama administration said it would provide GM funding for an additional 60 days, which "will give us time to develop a more aggressive restructuring plan than the Febuary plan to ensure our long-term viability", said Wale. "We are hoping to be able to work with our unions and bondholders in the US to make the necessary changes and resolve this issue outside the court system."
Despite stumbling on the edge of bankruptcy in the US, GM still sees China as the most important growth market in the world.
GM has decided to go on an overdrive with its joint venture partners in China and launch a slew of new models.
It plans to launch five more Chevrolets and five more Buicks over the next two years, refuting claims that it was planning to sell the Buick brand to its partner SAIC.
Over the next five years "we will be launching more than 30 new or upgraded models", said Wale.
"It is possible for GM to double its sales target if the SAIC-GM-Wuling venture can chip in with 1 million units at that time," said Zhong Shi, an independent auto analyst based in Shanghai.
"With the government support for small-size vehicles and the moves to spur automobile demand in rural areas, SAIC-GM-Wuling venture certainly has a bright future," he said.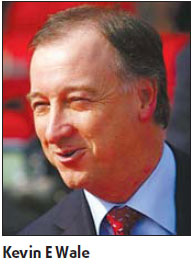 SAIC-GM-Wuling last year sold 606,499 vehicles, an increase of 17.4 percent year-on-year. In March, its sales hit 90,784 vehicles, a new monthly record, up 38.1 percent year-on-year.
German auto giant Volkswagen had earlier said it planned to double its annual China sales by 2018.
"Volkswagen's ambition will be contributed by its own brands while GM aims to achieve the bar with strong support from its joint venture brand Wuling," said Zhong.
In 2008, GM sold more than 1.09 million vehicles in China, 6.1 percent higher than 2007. Volkswagen, in contrast, sold 1.02 million vehicles, with a year-on-year growth rate of 12.5 percent.
That compared to a 6.7 percent increase for the whole industry, its slowest pace in a decade. Total vehicle sales for 2008 were 9.4 million units.
GM's confidence in the China market comes from its robust sales in the first quarter, with 363,701 units being sold across the country, representing a 16.8 percent increase from the same period in 2008.
Its March sales of 137,004 vehicles, nearly a 25 percent jump year-on-year, set a new company record for monthly sales.