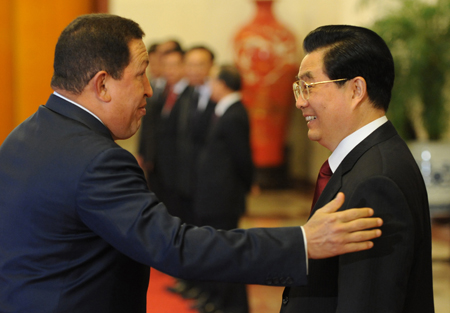 President Hu Jintao greets his Venezuelan counterpart Hugo Chavez at the Great Hall of the People in Beijing yesterday. Chavez arrived in Beijing on Tuesday night for a three-day working visit. [Wu Zhiyi]
Visiting Venezuelan President Hugo Chavez says China is leading the world out of the financial crisis.
In a meeting yesterday with President Hu Jintao, Chavez described China as the "biggest engine driving the world".
Related readings:


 China well placed to withstand crisis - expert


 NBS chief: China's economy in good shape


 Nation 'can cope with downturn'


 China's development crucial to world - US economist

"The center of gravity of the world has moved to Beijing," he said.
"We are creating a new world, a balanced world, a multi-polar world."
Hu said China attached great importance to its relationship with Venezuela.
The two countries should further their trade cooperation in areas including energy, agriculture, infrastructure and technology to weaken the impact of the financial crisis, he said.
This is Chavez's sixth visit to China since taking power in 1998.
Upon arrival on Tuesday night, Chavez said he would urge Chinese leaders to increase the barrels of oil imported from Venezuela from 380,000 to 1 million by 2013.
China imported about 1.46 billion barrels of oil worldwide last year.
A Chinese analyst said increasing oil imports from Venezuela would be expensive.
"It takes only two days for Venezuelan oil to go to the US, but 10 days to come to China," Professor He Shuangrong, of the Institute of Latin American Studies of the Chinese Academy of Social Sciences, said.
In addition, Beijing imported heavy crude oil from Venezuela and it was costly to refine it for use.
Bilateral trade peaked last year at more than $10 billion, according to Venezuelan figures. Last year, Venezuela launched its first geostationary satellite thanks to cooperation with China.