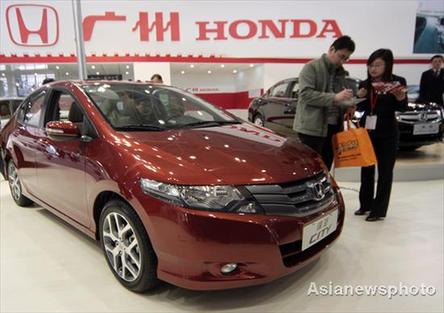 Consumers at an auto exhibition in Beijing, April 2, 2009. [Asianewsphoto]
China's automobile sales may hit an all-time high in March and help the country to beat the US in automobile sales during the first quarter, a key official from the national planning body said yesterday.
"The 14 major automakers sold 1.026 million vehicles in China last month, which account for 90 to 91 percent of the total market," said Chen Bin, director general of the Department of Industry at the National Development and Reform Commission, during a shipbuilding industry forum in Beijing yesterday.
The total sales will likely overtake the monthly sales record of 1.059 million units in March 2008.
This will be the third consecutive month that China has sold more vehicles than the US.
Related readings:


 Auto parts biggies to skip Shanghai expo


 Detailed auto stimulus plan released


 Ford, GM to cover car payments if buyer loses job


 Obama asserts gov't control over the auto industry
During the first quarter, 2.2 million units of passenger cars, buses and trucks were sold in the US.
"China is the automobile market with the most potential in this global industry downturn. The government's stimulus policies are starting to take effect," said Hui Yumei, an analyst with Sinotrust, an automobile industry research company.
This year, China has halved retail taxes on small cars and plans to give 5 billion yuan in vehicle subsidies in rural areas to drive automobile consumption after sales rose at the slowest pace of 6.7 percent, to 9.38 million units, in a decade, last year.
"The stimulus package has evidently taken effect in the first two months, and it is reflected in the strong sales growth of passenger cars with engine capacity of or less than 1.6 liters," said Hui.
"I believe the small car sector will still be the major driving force for sales in March."
In the first two months of the year, sales of small cars with engine capacity of or less than 1.6 liters were up by 18.78 percent year-on-year, while sales of cars with engine capacity between 1.6 and 2.0 liters fell 17.32 percent, according to China Association of Automobile Manufacturers.
The association may release the official March sales figures this Friday or next week.
"China's auto sales in 2009 may break the 10-million barrier and overtake the US as the the world's biggest automobile market," Mei Songlin, deputy general manager of J.D. Power Asia Pacific was quoted by Shanghai Securities News as saying.