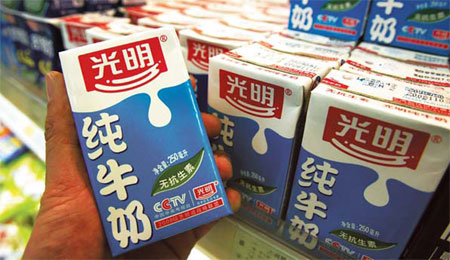 A customer chooses a box of Bright fresh milk at a supermarket in Beijing. [Liu Hangzhe]
Bright Dairy, the third-largest dairy producer in China, yesterday posted a loss of 286 million yuan in 2008 reflecting the plunging fortunes of the dairy industry due to the tainted milk scandal in September 2008.
The Shanghai-based company's loss was in sharp contrast to a net profit of 200 million yuan in 2007.
Related readings:


 Bright Dairy posts losses of 286m yuan in 2008


 Dairy firms may suffer losses in Q3


 Bright Dairy profit tumbles


 Bright Dairy to raise milk output

The company, the first major Chinese dairy producer to announce its 2008 results, said the milk scandal was the main reason for its poor performance.
Chen Lianfang, senior analyst with Beijing Orient Agribusiness Consultant Co, told China Daily yesterday that he expected other major dairy producers, including Inner Mongolia-based Mengniu and Yili to report even bigger losses when they announce their earnings later this week.
Previously both Mengniu and Yili, the other two major dairy producers in China, had both issued earnings alerts.
Chen said he expected Mengniu to suffer a loss of 900 million yuan in 2008, while Yili could post a bigger loss of 1.3 billion yuan.
"For Bright Dairy, its main business has long been in the red, and the company has been investing in other sectors, such as launching the Bright grocery chain stores in Shanghai, to enhance its profitability," said Chen.
He also said the "light-asset strategy", which Bright Dairy's former president Wang Jiafen adopted between 2000 and 2004, should be blamed for the overall sluggish performance of the company.
During that period, Bright Dairy had been purchasing its smaller rivals, such as Tianjin Mengde, Jiangxi Hero and Zhengzhou Shanmeng, hoping to expand and export its management and brand nationwide for bigger profits, with Bright Dairy itself focusing on product development, sales and brand promotion.
The strategy did work for a period of time as Bright Dairy's dairy business revenue rose to 6.79 billion yuan in 2004 from a mere 1.1 billion yuan in 1998.
However, Bright Dairy's ambitious expansion strategy was severely hit in 2005 and 2008, due to the lack of management and quality control, said Chen.
In its annual report, Bright Dairy said that despite the current difficulties, domestic demand for dairy products will continue to rise, and it will stick to a regional development strategy and put product safety as its utmost concern.
It expects the revenue for its dairy producing business to touch 8.26 billion yuan this year, with a net profit of 162 million yuan.
However, Chen said he is not too optimistic about a revival of fortunes for the dairy industry as it does not figure in the key sectors the central government will support with its 4-trillion yuan stimulus package.
Ding Pin, analyst with Haitong Securities, said yesterday that Bright Dairy's poor performance is within her previous predictions, adding that the dairy maker will have the capacity to become profitable in 2009.