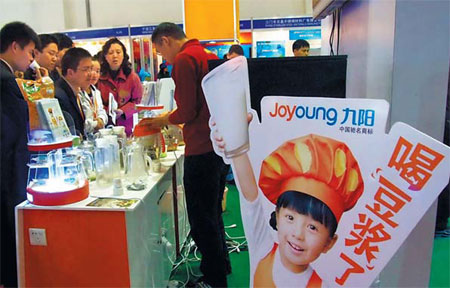 Visitors at a Joyoung soy milk maker counter in Shanghai. [Jing Wei]
Domestic soybean milk machine makers profited from a surge in sales in 2008, largely due to the tainted milk scandal.
Related readings:


 Sales of soy milk makers shoot up


 Plan pushes drive to balance nation's diet


 Soybean industry told to enhence competitiveness

Joyoung, the largest of these companies, recently reported a 72-percent increase in 2008 profit to 538 million yuan on sales of 4.32 billion yuan, up 123 percent from 2007. The company said its cash flow, an indicator of financial health, surged 125 percent from a year before to 953 million yuan.
But the company, which made its debut on the Shenzhen Stock Exchange last May, is not going to have the field all to itself for too long. Some pretty tough competitors, including the electrical appliance giant Midea, have invested big money in the business to grab a slice of the expanding pie. Some lesser rivals have already succeeded in making inroads into the market.
Although Joyoung claimed to have invented the soybean milk maker, there is no fixed pattern for the product, which, according to experts, is really based on technologies no more complex or esoteric than a common coffee maker with a built-in grinder. In the past, electrical appliance manufacturers did not take the soybean milk machines too seriously as they were focused on niche products appealing to weight watchers and committed vegetarians.
Not anymore. The milk scandal that surfaced late last year has forced many families, especially those with children, to switch to protein-rich soybean-based drinks. Sales of soybean milk makers have ballooned since.
With an 86-percent share of the soybean milk maker market, Joyoung hasn't been turning out the machines fast enough to meet market demand. To consolidate its market dominance, the company has invested in expanding its sales network, which now includes 20,000 sales channels and 1,000 outlets around the nation. In addition, Joyoung embarked on an advertising spending spree in 2008 to woo new customers and to fend off emerging competition. That included more than 100 million yuan in television advertisements on the CCTV network.
But its aggressive stance hasn't deterred potential competitors, especially those with deep pockets.
In August 2008, Midea announced its entry into the soybean milk machine sector with considerable fanfare. It said it has earmarked 300 million yuan to start a venture with a planned annual output of 30 million units, making it the biggest producer of the product in the world.
Its initial target, though, seemed surprisingly restrained, just 35 percent share of the market within three years. But at least a large chunk of that will have to come from Joyoung's existing market share.
The other thorn on Joyoung's side is the smaller electrical appliance makers, which are eyeing the soybean milk market.
Donlim, a Hong Kong-based manufacturer, has been quietly making inroads into the market since 2007. It is now firmly established as the second largest soybean milk machine producer on the mainland, with annual sales of more than a quarter of a million units.
There will be a lot more players after Midea and Donlim, given that the soybean milk sector is set to explode and there is little barrier for entry into the sector.
Since 2006, the sector has been annually expanding by 80 percent in sales. Sales volume of soybean milk machines was 2.5, 3 and 5 million from 2005 to 2007, and was slated to touch 8 to 10 million last year.
The growing threat to its dominance in the soybean machine sector, of course, hasn't gone unnoticed by Joyoung. In its latest annual report, Joyoung said it aims to build itself into a "leading small appliance provider". Analysts, however, feel that it is not a sound strategy.
"When the soybean milk machine sector is still promising, it's not wise for Joyoung to spare efforts to develop other businesses that it is still not that good at," said Hu Yali, analyst from CITIC Securities.
Hu Yang contributed to the story