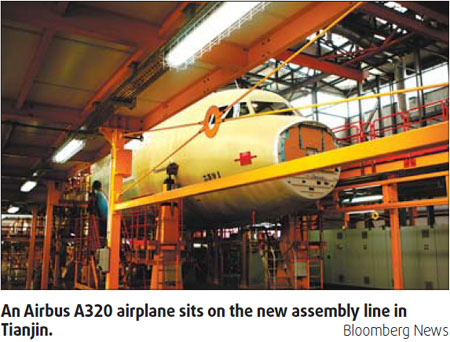 Privately-run carrier Spring Airlines plans to take delivery of six more aircraft over a three-year period, increasing its fleet size to roughly 30, including leased ones, a company spokesman said.
Spring yesterday took delivery of its first A320 aircraft from Airbus as part of the six aircraft it ordered between 2006 and 2007. The new aircraft will be used for flights to Lanzhou and Urumqi in western China, said the spokesman.
Related readings:


 China's budget carrier drops plan to slash baggage limit

 Budget airline sales revenues hit 540m yuan


 Spring Airline announces overseas IPO plan

Adding another 10 A320 planes that Spring Airlines booked from Airbus, the Shanghai-based carrier will now have to shell out nearly 6 billion yuan.
Wang Zhenghua, founder and chairman of Spring Airlines, said his company is well off in the economic turmoil. Wang told reporters that the carrier plans to double its net profit this year to 40 million yuan.
"This is an encouraging and aggressive goal for a private carrier," said Yao Jun, analyst, China Merchants Securities. "Spring Airlines is one of the few airlines that made profit in 2008, a feat shining enough to eclipse the loss-making State-owned airlines which enjoyed more flight resources and financial support."
Due to its low-price model, Spring Airlines registered 1.6 billion yuan in sales last year. However, Wang Zhenghua expected the airlines, named after its former identity of a travel agency, to make 2.2 billion yuan this year. "Our confidence is based on our robust capital flow, low debt-to-equity ratio of less than 50 percent, and a good management team," said Wang.
Targeting the low-end market, Spring Airlines has its tickets priced 36 percent lower than market peers on an average. As a result, the carrier's seat kilometer utilization, an index measuring the efficiency of plane running, stays above 95 percent, while its giant rivals are scrambling for 70 percent.
According to Wang, the carrier is planning to launch flights to Hong Kong and Macao this year, and flights to Japan and South Korea next year.
Despite the resilience shown by Spring Airlines, analysts said the carrier does not pose much of a challenge to its State-owned counterparts.
"It has been only four years since private carriers were licensed to run domestic flights, and there is still a long way for them to lock horns with giant carriers. Recently, East Star Airlines stopped flights due to mounting debt, while United Eagle Airlines was nationalized. The two private carriers' failure has come as warning bells for the rapidly expanding Spring Airlines," said Yao.