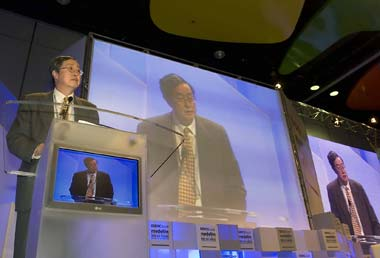 Chinese central bank governor Zhou Xiaochuan makes a plea for international financial reforms during his speech at the Inter-American Development Bank meeting in Medellin, Colombia, March 28, 2009. [Xinhua]
Chinese central bank governor Zhou Xiaochuan said on Saturday that it was uncertain whether China's economic slowdown had ended and he urged more financial reforms in the face of the worldwide slump.
Zhou made the remarks in the Colombian city of Medellin where he was attending a five-day Inter-American Development Bank meeting that began on March 27.
He said he expected financial reforms and regulatory measures for international financial organizations, including the International Monetary Fund and the World Bank, would be discussed at the G20 summit of leading industrialized and developing nations in London.
Related readings:


 Central bank urges int'l financial reform


 G20 should urge reform of financial institutions


 China calls for full-scale financial system overhaul


 Official outlines economic reform in four key areas
"Up to now we have participated in some working groups which focus on coordinating efforts to overcome the negative impact of the financial crisis," Zhou said.
"The second is maybe financial sector reform, including regulatory reform, and I think we also expect there may be some reform agenda for international financial institutions, including the IMF, the World Bank and other development banks," he said.
The top banker said China would be prepared to participate if the IMF sought to increase its reserves to better tackle the global crisis.
Asked if one possibility would be a private placement of SDR-denominated bonds, Zhou said: "I think the approach is not that important. But anyway China is going to do some things. And I think probably a technical issue is still in discussion."
Asked if China's slowdown had halted, he said: "You know, it still very much depends if this global financial crisis has reached bottom.
"This kind of dependence is the most important. Up to now it is still uncertain. We don't know yet."
China is facing a challenge to its economy because of slowing demand in the United States and Europe. Exports have dropped from a year ago in the last four consecutive months.
The country is targeting gross domestic product growth of 8 percent this year and is spending 4 trillion yuan ($586 billion) on a stimulus package to maintain high economic growth.
On March 18, the World Bank lowered its forecast for China's 2009 economic growth to 6.5 percent from November's 7.5 percent estimate, saying China would be thwarting its medium-term goals if it tried to offset the slowdown by further boosting investment.