Steel futures made an impressive debut on the Shanghai Futures Exchange (SHFE) on Friday, signaling a good beginning for the industry revival.
Related readings:


China steel futures contract joins global race


 China to cap steel output at 460m tons in 2009


 Expert: China's steel exports may contract 80%


 Steel exports down 62% in Feb

Reinforcement bars (rebar) due for delivery in September rose 4.77 percent to close at 3,561 yuan a ton, while wire rod jumped 6.22 percent to 3,398 yuan a ton. The turnover of the two steel products totaled 16.531 billion yuan, equaling 4,671,000 tons.
Shang Fulin, head of the China Securities Regulatory Commission (CSRC), said the launch of steel futures on SHFE would help formulate a more scientific market price by bridging the spot and futures markets and also provide a shelter from volatility.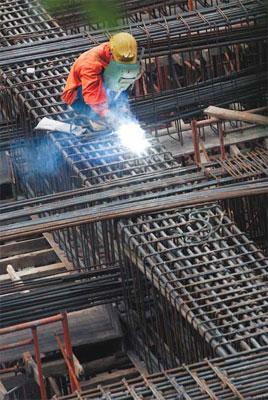 A welder works on a mass of steel reinforcing bars at a construction site in Shenzhen. [Agencies]
"In the last two years, many investors traded steel products in the spot market in a similar way like steel futures contracts. This market trend led to the creation of a broad base of futures players," said Dong Shuzhi, an assistant to the general manager with Jinshi Futures.
Buoyed by the good response to futures trading, steel shares rallied nearly 5.59 percent, with Baosteel firming up by 6.61 percent, Baotou Steel by 9.91 percent and Ma Steel 2.88 percent.
As the world's largest consumer and producer of steel, China rolled out 502 million tons of steel products in 2008, among which, wire rod and rebar accounted for nearly one-third of the nation's total steel supply, and more than 50 percent of the global rebar and wire rod supplies, said Luo Bingsheng, vice-chairman and secretary-general, China Iron and Steel Industry Association.