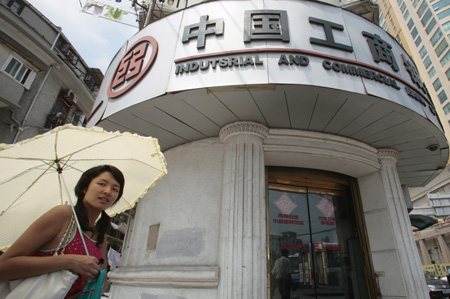 A woman passing by a branch of the Industrial and Commercial Bank of China in Shanghai. [Agencies]
Industrial and Commercial Bank of China (ICBC), the world's biggest lender by market value, yesterday poste a 36-percent growth in full year net profit, but an increase in provisions for its overseas investment losses slowed profit growth in the fourth quarter.
Related readings:


 ICBC posts 35.2% rise in 2008 profit


 ICBC posts flat Q4 profit growth, meets forecasts


 ICBC targets 12-13% loan growth in 2009


 ICBC reports strong mortgage loan growth in Jan

ICBC's full year net profit rose to 110.8 billion yuan from 81.5 billion yuan in 2007. Net profit in the fourth quarter remained flat at 18.1 billion yuan compared with 18.02 billion yuan a year earlier. The net profit was, however, 35.6 percent lower over the third quarter figure of 28.1 billion yuan.
ICBC said it has made allowances for losses on US sub-prime mortgages and agency-backed debt totaling $1.9 billion.
At the end of 2008, ICBC still had $1.85 billion of US sub-prime mortgage-backed securities and Alt-A home loans-backed securities, representing 0.13 percent of its total assets.
The lender also held $1.64 billion worth of securities in troubled US mortgage firms, Freddie Mac and Fannie Mae.
The bank's overall allowance for impairment losses for the full year jumped by 48.3 percent to 55.5 billion yuan
Bank of China (BOC), another State-controlled bank which released its 2008 earnings report on Tuesday, posted a 59 percent decline in its fourth quarter net profit due to higher US sub-prime mortgage related losses.
ICBC has improved its provision coverage ratio to 130.15 percent in 2008, 26.5 percentage points higher than in 2007. The bank's non-performing loans ratio decreased to 2.29 percent, down from 2.74 percent in 2007.
Capital adequacy ratio dipped slightly to 13.06 percent last year, from 13.09 percent earlier.
The 15-basis points gain in ICBC's net interest margin last year contributed to its steady profit growth. A basis point is 0.01 percentage point.
The bank's net interest margin rose to 2.95 percent in 2008, from 2.8 percent in 2007.
However, a report from Minzu Securities indicated that the 2.95 percent interest margin was still 6 basis points lower than that in the first half of 2008.
ICBC's earnings per share grew 53 percent in 2008 to 0.33 yuan, close to analysts' forecast of 0.35 yuan. Despite hiking the dividend to 0.165 yuan per share, ICBC's dividend payout ratio fell to 50 percent in 2008 from 55.4 percent in 2007. ICBC shares rose 1.13 percent to HK$3.58 in Hong Kong yesterday before its full year earnings report was released.
An ICBC statement yesterday said Goldman Sachs agreed not to sell at least 80 percent of its stake in ICBC until 2010, according to Reuters.
Goldman Sachs owns 4.93 percent of ICBC and investors have been worried that the New York-based firm will sell some of its holding when lockup provisions on the stake lapse in April and October.
If Goldman sells the remaining 20 percent of its ICBC stake earlier it will maximise value and minimise market impact, ICBC said.