In an unfortunate reversal of fortune, more than 70 percent of upcoming graduates have yet to secure a job.
"Normally about 70 percent of graduates have job offers in March, but now the situation is completely upside down," Wu Xiaohui, senior campus recruitment consultant with Shanghai Foreign Service Co Ltd (SFSC), told China Daily yesterday.
Related readings:


 1.24m college students to graduate jobless this year


 Tough task to find work for jobless


 Graduates swarm job fair for death business


 College graduates lower sights in jobs competition

According to SFSC's report, two-thirds of students have sent out more than 30 resumes since last autumn, with one frenzied student even sending out 600 copies to recruiters, Wu said. "The financial turmoil is forcing us to take advantage of every possibility to find a job because many companies have stopped recruiting," said Xiao Qin, 22, a student from Shanghai International Studies University.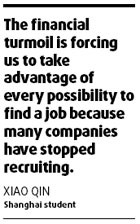 Jia Dong, a computer major graduate, said, "I have hardly missed a chance to hand out my resume since last year - job fairs, campus recruitment sessions or even by e-mail. With more than 120 copies of my resume out there I think I deserve better."
The report, released Saturday by SFSC, the city's largest employment agency, surveyed 519 undergraduate and graduate students from 12 local universities.
"The time after the Chinese Spring Festival, especially March, is usually the peak season for fresh graduates to sign job contracts with employers," Wu Xiaohui, senior campus recruitment consultant with SFSC, said.
According to another survey by SFSC, about 55 percent of the city's 104 multinational corporations didn't intend to recruit new staff this year amid the deepening recession.
Among those who plan to hire, half will recruit fewer than 10 people, compared with an average of 50 to 100 people in previous years.
Earlier this month, the SFSC teamed up with 157 multinational corporations to offer 1,000 vocational training opportunities, 1,000 internship positions and 1,000 job openings for graduates in the city to help ease the shrinking job market.