The country's top climate change official has rejected a proposal by the United States to slap tariffs on imports from countries that do not impose costs on carbon emissions.
Related readings:


 'Buy American' means trade protectionism


 WTO envoy: Protectionism will protect no one


 China wants importers to cover some emission costs


 Clinton stresses energy efficiency in emission reductions


 Developed nations should lead in emission cuts


 Climate Exchange to boost emission trading
The idea is an excuse for trade protectionism even as China boosts efforts to tackle greenhouse gases, Xie Zhenhua, head of China's climate change and coordinating committee, said on Wednesday in Washington.
"Climate change and imposing carbon taxes on imports ... are two separate issues" and should be tackled in separate negotiating forums, he said.
Xie was responding to US Energy Secretary Steven Chu, who told a congressional hearing on Tuesday that once Washington develops a system limiting carbon emissions, the US would be at a disadvantage if other countries do not impose a cost on carbon emissions.
The tax idea was a proposal the Obama administration should evaluate, Chu told the US House of Representatives science and technology committee. He voiced hope that fast-growing developing countries such as China and India would take steps to reduce their emissions.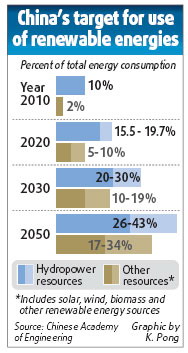 "I oppose using climate change as an excuse to practice trade protectionism," Xie, vice-minister of the National Development and Reform Commission (NDRC), told the Carnegie Endowment for International Peace, a Washington think tank.
US President Barack Obama is pushing Congress to develop a system that would cap carbon emissions and have companies purchase permits to release greenhouse gases. But some US lawmakers have raised concerns about how such a cap-and-trade program would hurt an economy already in recession.
Pressure is mounting on nations to seal a broader and tougher framework to replace the Kyoto Protocol on climate change in December during UN-led talks in the Danish capital of Copenhagen.
Unlike the US, China joined the protocol but is not required to cut its emissions because it is a developing country.
China's greenhouse gas emissions are now thought to be similar to levels in the US, which is the world leader.
Xie, who said he had talks with Chu and other US officials, refuted the premise that China was slow in tackling greenhouse gases emissions.
"China is not a country that does nothing," he said. "On the contrary, we have done a lot."
He listed a set of market-based measures on pricing, taxes and financial incentives the country was using to cut its emissions.
To that effect, Chinese and foreign officials and experts yesterday emphasized the measures China was taking to fight climate change.
Minister of Science and Technology Wan Gang said the focus on environmental solutions in industry would also be one way to face up to the global economic slowdown.
"The fundamental way out of the economic crisis is to find major breakthroughs in technological innovation as an important measure to create new market demand, and nurture new economic growth toward that direction," Wan said at the opening of a high-level forum for energy efficiency and emissions reduction in Beijing.
More than 200 enterprises and institutions worldwide presented their latest findings and technologies at the five-day fair.
The country will continue to push research in energy-saving and renewable energy technology, as well as implement more effective policies to support the development of an environmentally-friendly society, Wan said.