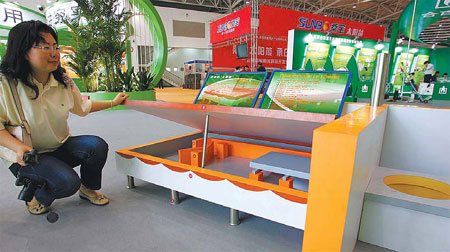 A woman examines a diao kang at an energy efficiency technology fair in the National Agriculture Exhibition Center. A diao kang is lifted several inches off the floor by bedposts and wastes much less heat than traditional kangs, which are built on the ground and heated from below by an in-built stove burning straw, corn cobs, wood or coal. [Asianewsphoto]
A local government initiative to trade traditional adobe kangs (hot beds) for more efficient diao kangs will keep villagers in Heshun county a bit warmer this winter.
Related readings:


 China's energy efficiency improves in '08

 Renewable energy sector gets a big push


 Profiting from innovation, energy productivity


 Thrust on energy efficiency as country advances

The Heshun government replaced 3,003 old kangs with new ones last year and will spend 1 million yuan replacing 10,000 more this year.
A "diao kang" is lifted several inches off the earth with bedposts, in contrast to the traditional kind, which is built on the ground and heated from below by an in-built stove burning straw, corn cobs, wood or coal.
Kangs are the only source of warmth in the winter in many Heshun homes, in North China's Shanxi province, but the traditional ones waste energy, pollute heavily and release carbon monoxide and other dangerous gases.
Diao kangs are designed to expose as much surface area, and heat, to the room as possible. They also warm up quicker and cool down slower.
"Every morning I put just a handful of straw into the kang stove and ten minutes later, the entire room is eight degrees warmer. The heat it produces warms the whole place, not just the mattress, and it stays hot much longer," said Zhang Jinguo, a farmer in Heshun county.
Zhang recalled that before the new kangs Heshun county was wreathed in smoke in the evenings. "Our table used to be covered with ashes from burning straws and wood, now we don't have to clean it every single time we touch it," he said.
The new kangs also save money. Zhang's family saved more than 1,000 yuan on their energy bills this winter, equivalent to about 15 percent of their annual income and ten times of the cost of transforming the bed.
The local government is paying to replace the beds and the homeowners provide the labor, said Mu Jinchun, an official with the county government.
Heshun county has enough coal reserves to power the entire nation for seven years, so it's hard to convince people of the need to conserve energy, said Mu.
But people are starting to come around, he said.
The idea of efficiency is being extended to other areas of the county too, he added. The county closed 29 of its 61 coalmines over the last three years but boosted the coal recovery rate at the remaining mines from 30 percent to 75 percent.
"We need to stop wasting and do more with less," said Mu.