The governor of Hebei has said he has "every confidence" the province can restore the trust in its dairy products after the devastating Sanlu milk scandal.
Related readings:


 Unified dairy standards on docket


 Dairy products export down in '08 on Sanlu scandal


 All tainted dairy products destroyed in Hebei


Hu Chunhua yesterday told China Daily the Hebei government had already begun programs to inject new life into an industry that had been forced to learn a harsh lesson.
Hebei was one of the biggest dairy producers in China before its reputation was destroyed when baby-formula powder contaminated with the industrial chemical melamine was sold by its then-most popular brand Sanlu, killing at least six children and poisoning another 300,000.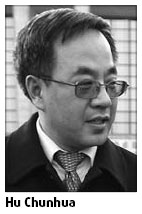 "We have been crystal clear about learning the lessons of the Sanlu scandal and we should absolutely adhere to developing Hebei's dairy industry, since it's so important to the province's agriculture," said Hu, who is also a deputy to the National People's Congress.
Premier Wen Jiabao highlighted the development of the dairy industry in his work report last Thursday, saying China should "implement the plan for reinvigorating the dairy industry".
And Hu yesterday said improvements in cattle raising, milk collection, quality supervision and product processing were on the way.
"It's a complicated project," he said. "Over 1,000 milk stations have been closed for the sake of quality control."
Hu also planned to stop the current "scattered" system of cattle breeding in the countryside and instead set up large, organized farms within three years.
"It is hard to ensure milk quality if cows are bred in scattered families," he added.
Food quality and agricultural administrations blamed the baby powder scandal on illegal milk brokers, who mixed melamine with raw milk collected from dairy farms to give them a falsely high protein reading and then sold it to dairy manufacturers, including Sanlu.
The dairy giant declared bankruptcy in Hebei in February, with Beijing Sanyuan Food Co Ltd snapping up its assets for 616.50 million yuan ($90 million) last Wednesday.
A total of 21 people, including ex-Sanlu executives and illegal milk brokers, were convicted in the case with sentences ranging from two years to the death penalty.
Yesterday, more than 10 varieties of Hebei Sanyuan milk made their way to market shelves. All were produced at plants originally owned by Sanlu.